Apple Now Sells a $79 Apple Pencil with USB-C
It's missing some features compared to the Apple Pencil (2nd generation), but it's $50 cheaper.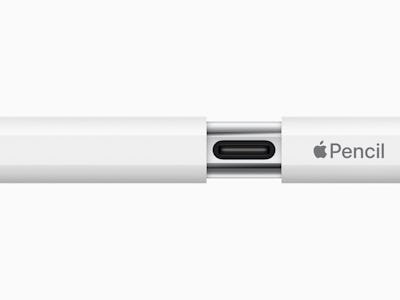 Apple
Not to be left out of "Techtober," Apple just announced... a new Apple Pencil. No new iPad, as rumored, but a new Apple Pencil with a built-in USB-C port.
At $79, the officially named "Apple Pencil (USB-C)" is Apple's most affordable stylus for iPads. The Apple Pencil (2nd generation) costs $129 and the Apple Pencil (1st generation) is $99.
The more affordable price comes with some cutbacks. As Apple so helpfully presents in a chart, the USB-C Apple Pencil lacks pressure sensitivity, a feature that both of the other Apple Pencils have. It can attach to iPads magnetically, but unlike the Apple Pencil (2nd generation), it can't wirelessly pair or charge while attached. You also can't double-tap the side of it to change tools (like when you need a digital eraser) and there's no free engraving.
But you do get USB-C pairing and charging and it's $79. You'll need to plug a cable into the Apple Pencil to pair and charge it, but perhaps the hassle is worth the savings.
Still don't like what you see? Maybe you prefer a flatter stylus? You've got plenty of other options from third parties.