Rollable Displays Could Make Phones and Laptops Exciting Again
Foldables are so yesterday.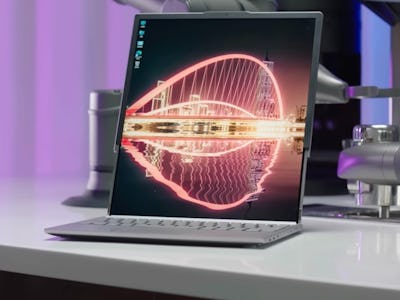 Lenovo
Foldable devices may still operate within a niche of the smartphone and laptop markets, but most of us have at least seen or used one. At this point, we're seeing largely the same design that was popularized with Samsung's Galaxy Z Fold and Z Flip series.
It doesn't seem like there is much room left to innovate with foldables and that's evidenced by other smartphone makers offering the same standardized design that we see with Samsung's offerings. Take Oppo's Find N2 Flip clamshell foldable and Honor's Magic Vs foldable that were recently announced.
As an alternative look to the tried-and-true glass brick design, foldables may have peaked. So what's next? If this week's announcements at Mobile World Congress (MWC) in Barcelona are any indication, rollables — devices with screens that slide or roll and unroll to expand — could replace gadgets that bend in half.
Both Lenovo and Motorola showed off their rollable laptop and smartphone at MWC, turning some heads with their in-person demos.
For Motorola (owned by Lenovo), the Rizr phone concept has a 5—inch screen with 15:9 aspect ratio that, well, rises and increases to a larger 6-inch 22:9 display when its power button is pressed twice. The flexible display works by rolling out from the underside of the phone, where it can also act as another display when not fully rolled out. This design gives you a bigger screen when you want it for things like watching movies or scrolling feeds, but can make itself more compact to fit better in your pocket.
It's a bulky phone when you view it from the side and the top part of the screen sticks out when it's raised, but at least it's not another slab that does nothing. Is it practical to get some more vertical or horizontal pixels (depending on the orientation)? Probably not very much. Does the Rizr look like it's straight out of Star Trek? Yes, it does — and we love it. Will Motorola ever commercialize the Rizr? Who knows?! But we sure hope it does!
EASILY EXPANDABLE
Similarly, Motorola's parent company, Lenovo, introduced a rollable laptop that uses the same mechanism, with a 12.7-inch screen that expands to 15.3 inches when rolled out.
The rollable mechanism gets around the main flaw with foldable devices: the crease. Since we don't have any actual rollable devices on the market yet, we've yet to see if these rollable devices have a similar defining flaw. For now, it seems like the question of durability surrounds the mechanism that rolls out the screen.
THE RACE FOR ROLLABLES
Lenovo isn't the only company to try out this novel display technology. We saw previous examples from TCL, LG, and Samsung. Lenovo's rollable smartphone and laptop may have some more polish than its competitors, but it's still a long way out from being in the hands of consumers.
For those looking for cutting-edge smartphone design, rollables are the clear answer. As with anything new and shiny, we don't know if there will be any major drawbacks like we're starting to see with foldables.
That being said, we're very much intrigued by Lenovo's rollable design. Lenovo and Motorola may have only previewed its rollables in concept form, but it could certainly be one of the first to release these types of devices to the market. Rollables are likely a few years away still, but we have to be grateful for something different in the often derivative world of smartphone design.