After Three Updates, Amazon's Kindle Scribe Is Now Worth Buying
Amazon's addressed almost everything that was missing with software updates.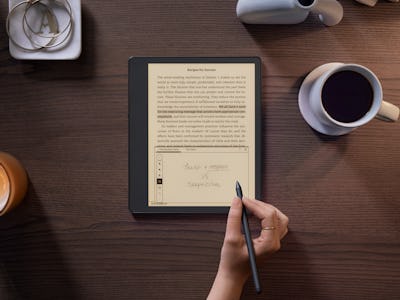 Amazon
Amazon had the right idea with the Kindle Scribe. Notetaking tablets with E Ink screens are niche, but they're a product that could really make a lot of people happy delivered at Amazon's scale. And the company spared no expense on the Scribe's hardware, even securing a beautiful, high resolution (300 PPI) E Ink display that still hasn't shown up on any competing e-readers.
The real issue with the device, when I reviewed it last December, was its software. Mainly, it seemed much better at selling and reading books (the basic Kindle business) than the writing and drawing that was supposed to be the other half of the Scribe equation. To put it another way, it was decidedly underpowered when compared to something like the reMarkable 2, which is both more open and capable when it comes to creating notes and documents and getting them off the device.
Well, Amazon didn't abandon its tablet in that disappointingly basic form. The company has repeatedly updated the Scribe over the months, adding new features that bring it closer to the abilities of its competitors, and that have made it, at least for me, a device I turn to daily. I only wish it didn't take this long.
Lassos, Sub-folders, Text Conversions
The launch version of Kindle Scribe could really only write and make folders. I mean, there was only one brush type at launch and a highlighter. For a flagship device from Amazon that cost $340, the Kindle Scribe was surprisingly, maybe even concerningly, underbaked.
The first update Amazon rolled out in February addressed those immediate concerns, adding more brushes like a pencil, marker, and fountain pen and, critically, the ability to make folders inside other folders and move content between them. Basics that really should have been there from the start. Then in April, Amazon made good on an early promise by adding the ability to send documents from Microsoft Word to the Kindle Scribe and introducing more flexibility with notebooks (the ability to add and rearrange pages).
Now today, May 22, the Scribe is basically getting everything else I highlighted as a missing feature in my review. There's a new lasso tool for moving and resizing the texts and drawings you make in notebooks, an option to convert handwritten text into typed text and email it wherever you want, and support for annotating directly on ebooks rather than "sticky notes."
Amazon is still missing some of the openness of the reMarkable 2 in terms of cloud storage, but it's come leaps and bounds.
What Took So Long?
The Kindle Scribe has completely taken the place of my reMarkable 2 — a product I recommended just last year — largely thanks to the updates Amazon has rolled out and credit to what seems like the company's overall strategy, the presence of my existing library of ebooks. I still feel like I could potentially be more productive on the reMarkable 2, and the company's recent keyboard accessory is an interesting expansion of what the E Ink device can do, but the Kindle Scribe is just ever-so-slightly easier to use.
You could think about the Kindle Scribe a bit like Valve's Steam Deck. Amazon has been selling Kindles and ebooks for years now. There's a good chance you either owned a Kindle, own some ebooks, or already have an Amazon account that'll let you buy both. In the same way, if you've played games on your computer before, there's a good chance you have a Steam library. That makes the Steam Deck much easier to buy and keep using, much the same way the Kindle Scribe is interesting for its notetaking abilities, but I've kept using it because my books are there.
The real question is, why did Amazon release the Scribe well before the software updates that made it great were ready? The company announced the Scribe during its fall hardware event in 2022, and it went on sale on November 30, just in time for holiday shopping. Was hitting that sales target worth shipping a product that wasn't fully cooked? It sure seems that way. Whatever the reason was, the Kindle Scribe is finally great after three software updates, and I can now wholeheartedly recommend buying it if you're in the market for a e-reader for notetaking.
This article was originally published on