The Kindle Scribe Is Getting 3 Features It Was Missing At Launch
After being introduced with some of the most spartan writing abilities imaginable, Amazon is finally making the Kindle Scribe more of a capable notetaking machine.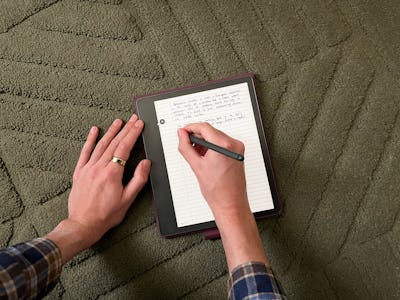 Photography by Ian Carlos Campbell
Amazon's Kindle Scribe wasn't a perfect first attempt at integrating writing into the overall book-reading experience, but Amazon isn't giving up on the E Ink tablet.
The Kindle Scribe will get three new features starting Monday that should bring it closer to the reMarkable 2 in terms of abilities, even if it seems like the "Everything Store" is still slow to embrace the Scribe's potential for both content creation and content consumption.
Brushes, Folders, and Navigation
Somehow, the Kindle Scribe launched with a single pen (of various thicknesses) and a single highlighter (with a few color options). After this update, the brush situation should be significantly improved. Amazon says it's adding "new fountain pen, marker, and pencil options" which support the Scribe's ability to detect the pressure and tilt of your pen strokes, along with five levels of thickness for each brush.
You'll also finally be able to create subfolders inside folders and move folders in and out of each other — another feature that was bizarrely missing from the Scribe when Amazon introduced it last year. Combined with the new ability to navigate to a specific page in a notebook just by typing in the page number, the Scribe should be a more competent tool for notetaking and annotating large quantities of documents.
From reading books, to writing them
Important features are still missing that keep the Scribe from being a complete replacement for popular E Ink tablets, including direct integration with cloud storage services and a wider variety of notebook templates. Amazon's promised more updates to come, like integration with Microsoft Word. However, even with these improvements, there still seem to be some philosophical differences between the Scribe and its competitors that could keep it from shining.
Amazon clearly views its Kindle business as selling books, audiobooks, and comics. Adding a pen and Wacom layer to an e-reader doesn't fundamentally change that. It's reflected in the home screen of the Kindle Scribe, which still bombards you with book recommendations, and Amazon's slowness to open up what the Scribe can do. The company hasn't sold a product expressly focused on making things (adding a keyboard to a Fire tablet doesn't count), and it shows. There's a chance the Scribe could change how Amazon approaches things, but for now, it's just good that the company continues to support it.