This Electric RV with Starlink Has a Better Range Than Your Average EV
Living off-the-grid couldn't be easier.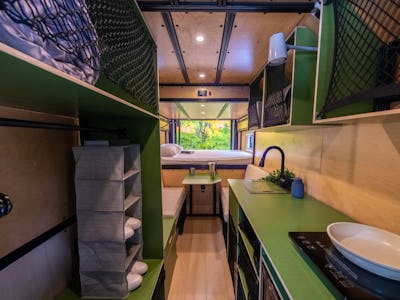 Grounded
If you're ready to abandon the idea of ever owning a home and living on the road instead, Grounded has an electric camper van that's ready-built for that. The EV startup introduced its second model, the G2, which has some significant improvements over its first design. Equipped with internet access, a kitchen and bathroom, and a modular setup that you can change up anytime, the G2 is the luxurious side of #vanlife and naturally, it has a hefty price tag to match.
Electric camper vans are all the rage nowadays, capitalizing on people's desire to rebel against the typical American dream and live in the woods instead. Grounded isn't the only company to make them, but its G2 design should be the bar by which the others are judged.
GOING OFF-GRID
Instead of using Ford's E-Transit platform, Grounded is going with GM's BrightDrop Zevo 600 for the G2. This platform is a major upgrade over the G1's 108-mile range since the G2 now gets 250 miles on a single charge. The G2's all-wheel drive configuration means you'll be able to handle rougher terrain and that additional range won't have you scrambling to find a charger when you're in the middle of nowhere. You'll also get some basic safety features like front pedestrian braking, front and rear parking assist, and lane keep assist.
The electric camper van runs off a 165 kWh battery, but Grounded adds a 10 kWh battery that's meant to power just the interior. Inside the G2, you'll have 615 square feet of living space, which you can design however you want thanks to the camper van's modular style. You can work out your custom design with Grounded, but your options include a queen bed, seating for up to seven people, a pull-out table, fridge, sink, induction stove, storage space, and indoor shower. That's honestly nicer than some studio apartments out there.
G2 OR DOWN PAYMENT?
There are a bunch of EV makers getting into the electric camper van market, but Grounded's G2 modular design and Starlink connectivity set it apart from the rest. There are other startups stepping into the space, like Thor Industries and Potential Motors but Grounded has already established itself thanks to its G1 that's still a solid option for luxury vanlifers.
Grounded is keeping with that luxury theme with the G2's pricing since it starts at $195,000. That means any additional elements could bump that price tag all the way past $200,000, which could alternatively cover a significant portion of a house payment.
If you have that kind of money lying around and do want to live on the road, you can put in a refundable $1,000 deposit to reserve your G2. Grounded says deliveries will start this month, but the fully-equipped vehicles with the largest battery pack will enter production first. In other words, the most expensive builds will get priority. Still, the G2 is a seamless way to get started with your vanlife journey.