The 5 Best Electric Vans for Camping In Luxury
The major automakers have finally caught onto the trend.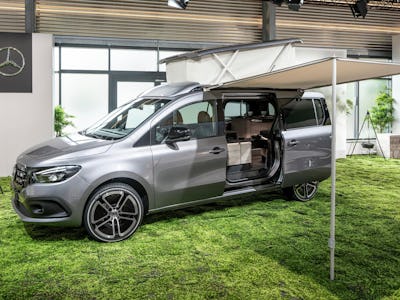 Mercedes-Benz
The idea of living in your van had humble beginnings with people tackling budget DIY conversions of decommissioned utility vans. But it didn't take very long for influencers to spark the #vanlife movement, making life on the road seem glamorous.
The surge in popularity has led to pre-built camper vans made by boutique startups with outrageous price tags, and now, big-time automakers are offering pre-built camper vans complete with sleeping quarters, kitchens, and bathrooms.
If you want to live the van life, but don't feel like gutting an EV yourself, here are the five best lock-and-key camper vans money can buy.
VOLKSWAGEN ID. BUZZ CALIFORNIA
Volkswagen has a long history of making California camper vans, but none of them have been fully electric. That's supposed to change soon with the ID. Buzz California, which would be an electrified version of its California 6.1 camper van.
Volkswagen hasn't released any design or specs yet, but we're expecting its all-electric camper van to feature its signature pop-up roof and a mini-kitchen that can be stowed away. There are conflicting reports on whether Volkswagen is delaying the ID. Buzz California, but we could see it hit the U.S. market as early as 2024.
WINNEBAGO ERV2
The Winnebago name is practically synonymous with the idea of a massive family road trip vehicle, but the company wants to dive into the van life segment with the eRV2. It's built on Ford's E-Transit chassis, which means only a 108-mile range, but Winnebago says its electric concept was designed to survive seven days of off-grid camping. The eRV2 has only made it as far as a prototype, but Winnebago has racked up nearly 26,000 miles in testing.
MERCEDES-BENZ CONCEPT EQT MARCO POLO
Van-lifers, particularly those with an unlimited budget, are already familiar with Mercedes-Benz Sprinter vans as a solid base for a luxury camper van build. The German automaker is making it even easier with its Concept EQT Marco Polo. Mercedes-Benz has designed its electric camper van to convert from living space to daily driver in less than five minutes. It's still a concept that's being worked on in Europe, but it will be available as an add-on to the EQT model.
HYUNDAI STARIA LOUNGE CAMPER
Hyundai managed to pack a ton of functionality into its Staria Lounge Camper. The four-seater version can sleep two in the pop-up roof and another two in the main cabin. When it's not set up as a bed, the interior has room for a kitchenette, sink, fridge, and a 12-inch touchscreen command center. There's even a shower hookup on the outside of the EV. The bad news is that Hyundai doesn't have any current plans to offer it beyond Korea.
NISSAN TOWNSTAR
Coming off the NV200 which was a popular compact option for van life, Nissan has evolved the model into the Townstar EV. Even with its relatively smaller size, there's still a rooftop bed and a camper-in-a-box kit that stows into the tailgate and includes a dual-burner gas stove, sink, and fridge. Nissan previewed the camper van package in Germany and plans to eventually offer this package as an add-on to the Townstar EV.