This Compact Kitchen Mod for Volkswagen's ID. Buzz Is the Best Excuse To Go Camping
Make your ID. Buzz a people mover by day and camper van by night.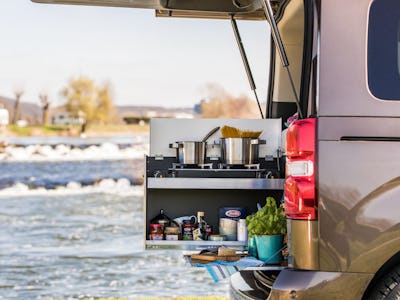 Ququq
Camping in the ID. Buzz is a whole lot easier with Ququq's camper van mod. Volkswagen recently showed off its European model of the ID. Buzz at the Electrify Expo in New York, equipped with Ququq's BusBox-4. The aftermarket mod folds out into a camp kitchen and bed when you need it, but also stows away into a compact trunk when you don't.
The German company has a solid history of designing van life accessories for a bunch of models that prioritize a modular design. Ququq already has camper van mods for the Mercedes-Benz Sprinter, Dodge ProMaster, and Ford Transit. With conflicting reports of whether or not the ID. Buzz California camper van will be delayed or not, Ququq's BusBox-4 may be the closest thing we get for now.
SET UP IN MINUTES
When tucked away, the Ququq BusBox-4 slots into the trunk of the ID. Buzz. Once at your campsite, you can extend the 3.9-inch thick foam mattress over the van's rear seats, which can either be folded down or completely removed. The kitchen unit slides out from the stowaway box and has a two-burner stove that uses gas cartridges and a 10-liter water supply with two stainless steel bowls that act as sinks.
When you're not using it, you can quickly disassemble the kitchen and bed and fold it back up into a compact box. The BusBox-4 is also strapped down so nothing rattles or goes flying once you actually start driving. Compared to full van life builds, the BusBox-4 makes it a lot easier to break down camp and get going in very little time.
COMING TO AMERICA
European customers who already can order the ID. Buzz can also order the Ququq BusBox-4 separately, which goes for €3,190. As for U.S. customers, we're still waiting for Volkswagen to bring its electric van over stateside, which it said it will do in 2024.
Once that happens, Rough Road Equipment, which is the official Ququq dealer for the U.S., told InsideEVs that it would have a few units of the Bus Box 4 in early 2024. There are no pricing details for the U.S. yet, but Rough Road Equipment is expecting it to hit around $4,500 with import duty and customs fees, according to InsideEVs.