Winnebago's RV Concept Is a Luxurious EV With One Major Flaw
The eRV2 has got everything you need to live comfortably in a van.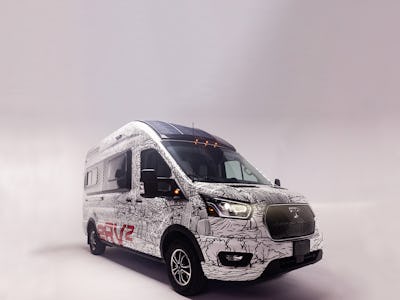 Winnebago
It may be just a concept right now, but Winnebago's electric RV may be the easiest way to start living on the road. Most of us are familiar with the Winnebago name since it's developed so many RV offerings in the past. However, it's yet to add an all-electric RV to its lineup.
That may be changing soon since the brand introduced its latest electric RV concept at the Florida RV SuperShow. The eRV2 is an update to the company's first all-electric RV concept that debuted last year, but Winnebago seems more set on getting this second iteration on the road.
Lacking real range
Winnebago built the eRV2 concept on Ford's E-Transit chassis, which means it currently has a meager 108-mile range. That's particularly dismal considering this is an EV that's meant to tackle the occasional off-grid adventure. However, Winnebago says it's looking into extending the range for a future commercial version. Winnebago also told Car and Driver that the field testing saw ranges between 100 and 140 miles with typical RV driving conditions.
Since it's built on the E-Transit platform, the eRV2 is powered by a 68 kWh battery, while also having a 48V lithium house battery that's used to power the RV's amenities like the fridge or air conditioning. The smaller house battery is stored beneath the floor to make for more interior space.
The eRV2's design features a portable induction cooktop, sink, bathroom with shower, and removable cassette toilet. There's also a five-in-one sleep/lounge and two flexible workspaces that have built-in charge points and a Wi-Fi router.
The E-Transit chassis that that eRV2 is built on can fast charge to 80 percent in around 45 minutes. Winnebago says the electric RV should be able to handle seven days of camping, made possible with the 900-watt solar capacity that's charged by the roof's solar panels. There's just a small catch with the seven-day figure and that's because the panels have to get at least four hours of sunlight a day and you can't use heating or air conditioning.
Testing underway
The eRV2 is still just a concept at the moment, but it's clear that Winnebago wants to make this a production model down the line. Winnebago says it's currently doing field testing with consumers to help shape the final design of the eRV2 before it hits dealerships.
Winnebago is letting those interested take it out for a test drive at the Florida RV SuperShow, where they will be able to give feedback on the conceptual e-RV. Besides the glaring low range that we assume most people will justifiably harp on, the eRV2 looks very promising for all the fledgling van-lifers out there.