RVs Aren't Just for Your Parents Anymore — Here's Why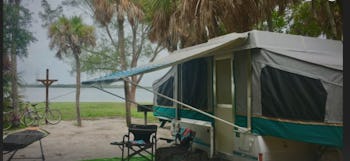 RV Share
The future of travel is the equivalent of AirBnb for RVs. Whether you're going traveling for one week or one month, you'll be able to rent an RV from directly from an RV owner on this website.
If you're looking to go on a family road trip or simply spend quality time with a friend, while also remaining comfortable, this might be the best option, a perfect solution between hotels, which are often overpriced and can be a hassle to plan around, and camping, which simply isn't for everyone.
RV Share is the largest RV rental site. Here's how it works: first you search for an RV based on location. They have RV dealers in 50 states. The price ranges from $60 per night to $300 and up per night. You can sort through the specifications for each listing, including information about the owner, how to contact them, amenities, check-in and check-out time, as well as the user's cancellation policy. The site has pet friendly RVs and ones that can be delivered specifically to your destination. They also have drivable RVs of various sizes, ranging from the equivalent of a van, to driving a large bus. They can accommodate anywhere from one person to eight people. Users also have reviews from past renters on their page, so you can read those to get a sense for whether you'd want to rent for them. RV Share also has options for daily rental prices, weekly and monthly — so if you're planning to use one for a long time, you'll find you'll often get a good deal.
Once you find an RV that suits your needs, you can go ahead and book it for the days you're looking for. The company provides insurance for renters and owners as well as 24/7 emergency roadside assistance. Bookings either need to be individually approved by the renter or some have an "instant book" feature so you can make plans right away. For RV owners, RV Share is a great way to make an extra income while sharing your home away from home with people who can appreciate it. And if you're looking for your next vacation spot, RV Share might convince you to take it on the road.