Google Pixel 8 and Pixel Watch 2 Will Be Announced on October 4
With the date penciled in, here's what we know about the new Google phones and smartwatch.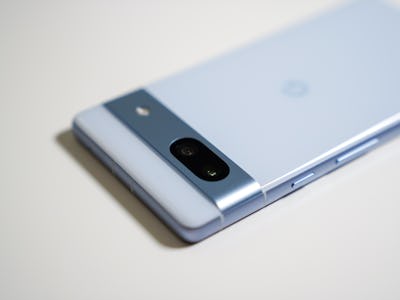 Photograph by Raymond Wong
Fall is just just around the corner. How do we know? Because the schedule for "Techtember" and "Techtober" is filling up. Yesterday, Apple announced its iPhone 15 and Apple Watch event for September 12 and today Google says its next Pixel hardware event will take place on October 4.
In an invitation sent to Inverse, Google says the event will "introduce the latest additions to our Pixel portfolio of devices." No further details, but we sort of already know what's coming: Pixel 8 / Pixel 8 Pro and Pixel Watch 2.
Pixel 8 / Pixel 8 Pro Leaks
An image of the Pixel 8 Pro in a "porcelain" color was accidentally published on the Google Store, according to Twitter user Mishaal Rahman who shared the image below.
The alleged Pixel 8 Pro matches other images of prototypes that leaked in July. From the look of it, Google's going to refine the hardware it established with the Pixel 6 / 6 Pro and improved with the Pixel 7 / 7 Pro. We see rounder corners, a slightly tweaked pill-shaped cutout in the camera bar, and what appears to be the rumored temperature sensor.
Rumored specs for the Pixel 8 include a 6.1-inch 120Hz display, a new Google Tensor G3 chip, and 128GB or 256GB of storage (512GB might be exclusive to the 8 Pro). Expect an in-display fingerprint sensor, 4,485 mAh battery, and a 50-megapixel main camera and 12-megapixel ultra-wide lens.
Meanwhile, Twitter user Yogesh Brar, shared in July alleged specs for the Pixel 8 Pro, including a 6.7-inch 120Hz display, Tensor G3 chip, 12GB of RAM, 128GB or 256GB of storage, and 4,950 mAh battery. The camera system will reportedly consist of a 50-megapixel main, 64-megapixel ultra-wide, and 48-megapixel telephoto lens. 9to5Google claims it's confirmed the Pixel 8 Pro will share similar colors to the Pixel Fold (black and white); a blue also seems likely.
Pixel Watch 2 Leaks
The image above shows a smartwatch that appears to be the Pixel Watch 2. Android Authority shared earlier this month that the Pixel Watch 2 will use a new Qualcomm Snapdragon W5 Gen 1 chip with a better GPU for smoother performance. Battery life might also get a bump up with a larger 306 mAh capacity, which would solve one of the Pixel Watch's biggest shortcomings. Another addition seems to be Ultra Wide Band (UWB) for precise local wireless communications (i.e. item tracking or digital car keys). Pixel Watch 2 will likely ship with Wear OS 4.
The Android blog claims the 1.2-inch OLED display is not changing, which might be a bummer if you're looking for a larger smartwatch.
Other Device Announcements?
There have been no other leaks so far. Last fall, in addition to the Pixel 7 / 7 Pro and Pixel Watch, Google previewed the Pixel Tablet and announced the Nest Wifi Pro Wi-Fi 6E router. Will Google surprise us with new products? A new Nest Audio smart speaker? Google hasn't updated the speaker since 2020. Anything is possible!