Fisker's EV Pickup Has a Huge Cupholder, Cowboy Hat Storage, and Expandable Bed
An EV for all the thirsty cowboys out there.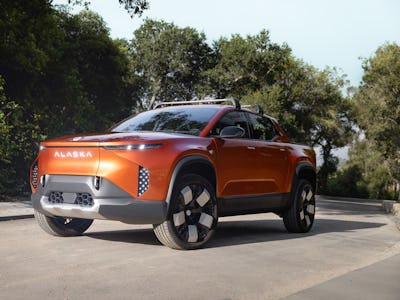 Fisker
Pickup trucks usually have lots of utility — but a truck that's purpose-built to store your massive drink, cowboy hat, and work materials? Now that's all-in-one.
Fisker just revealed a ton of details about its upcoming Alaska Pickup Truck EV, which it says combines the driving and handling of a luxury SUV with the practicality of a mid-size truck.
FULL OF FEATURES
Fisker says the Alaska will come in two battery pack options, either a 75 kWh or a 113 kWh battery. Depending on the battery, the Alaska will get a range of between 230 to 340 miles, making it not too far off from Fisker's Ocean Extreme SUV range. The different models also mean a 0 to 60 mph that ranges from 3.9 to 7.2 seconds.
The Alaska will measure 17.4 feet long, with a truck bed that starts at a standard 4.5 feet. You can expand the truck bed to 7.5 feet by activating the Houdini partition at the back of the rear row seats, similar to the Fisker Pear. If you need to fit something even longer, you can drop the liftgate at the back of the truck to get a maximum of 9.2 feet. Those dimensions would easily fit anything from lumber to surfboards, or even a makeshift campervan setup.
On the inside, the Alaska will have the "world's largest" cupholder, storage straps for your cowboy hat, cockpit storage for work gloves, a center armrest with more storage space, and a passenger tray that can fit a tablet. Fisker is also claiming the Alaska as the "world's most sustainable pickup truck," which could point to the EV maker using vegan interiors for the pickup truck, as we see with the Ocean.
COMING OUT IN 2025
Even though the Alaska just made its debut earlier this month, Fisker has already confirmed its release schedule. Fisker says it will start production on the Alaska in the first quarter of 2025, with deliveries expected to follow later that year. Fisker already has the Alaska up for reservations for $250, but if you're willing to commit to a second, it'll cost an additional $100 refundable deposit.
With a starting price of $45,400, the Alaska could threaten sales of Ford's F-150 Lightning, which has already dropped its price, or the upcoming Chevrolet Silverado EV. Of course, Ford and Chevy's pickup trucks don't have cowboy hat storage, though.