Fisker's Pear EV Is Ready To Take On Chevy's Affordable Bolt
That starting price is before federal tax credits, too.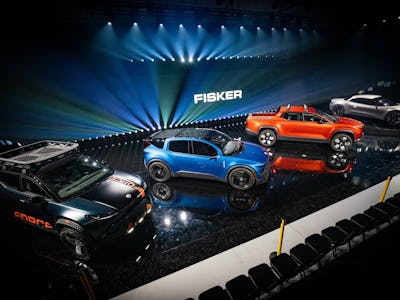 Fisker
We finally have a real look at Fisker's highly-awaited affordable EV, the Pear. We've known about the Pear since Fisker opened up reservations for its second EV back in February 2022 and while Fisker originally said that it would start deliveries of the urban EV in 2024, it's since confirmed availability in mid-2025.
Fisker showed off its Pear, along with the surprising Alaska pickup truck, the Ronin roadster, and the Ocean Force E that's meant for off-roading, during its Product Vision Day in California. With Fisker showing off its Pear, we have more hope that its sub-$30,000 EV will come to market and contend against the likes of the Chevy Bolt and the Nissan Leaf.
DISAPPEARING TRUNK DESIGN
The Pear, short for Personal Electric Automotive Revolution, will be built on a new Fisker platform called the SLV-1 and include its Blade central computing platform for the first time. Fisker didn't specify what the new platforms would add to the Pear, though.
On the outside, the Pear will have an ultra-wide wraparound windscreen and slim LED lighting. On the inside, the EV has a modular interior that can fit up to six people and features the Houdini Trunk, a design where the rear window slides into the tailgate, which then can disappear into the EV's body.
THE WAIT INTENSIFIES
Fisker still has reservations open for the Pear at $250 but has shifted its release date to mid-2025. Fisker will also be offering the Pear in four trim levels, so we could see a long-range or sportier model down the line. For now, Fisker is sticking to its sub $29,000 starting price for the Pear, which was previously billed to have more than 300 miles of range.
If you're looking for something that has more utility, Fisker's Alaska pickup truck is priced at $45,500 and is also accepting $250 reservations, with plans to start deliveries in 2025. Range-wise, Fisker's electric pickup truck is expected to get anywhere between 230 to 340 miles on a charge. Fisker is also taking $2,000 reservations for its Ronin which will start at $385,000 but hasn't detailed its release schedule yet.