BMW's First-Ever Armored EV Can Resist Bullets and Blasts
It's the first armored car of its kind since it's fully electric.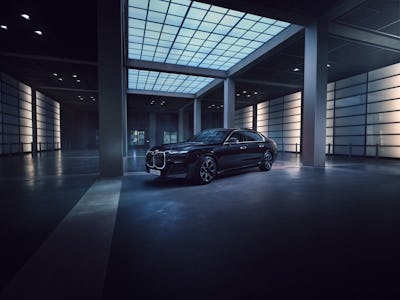 BMW
Presidential motorcades are about to get a whole lot greener. BMW announced its i7 Protection, which is an all-electric version of its luxury sedan that can also protect against bullets and blasts.
BMW says it's the first all-electric offering in the armored car category and it has gone all out with the features. BMW included a bunch of tech to make it easier for the driver to always keep an eye on the surroundings, but also interior features that keep the passengers safe and comfortable.
For the average EV driver, you probably wouldn't need VR9 protection against bullets and explosives, nor would you need a self-sealing fuel tank with a special casing that seals itself if pierced by bullets. For politicians, business owners, or even celebrities, these features are worth it for peace of mind.
PERSONAL FORTRESS
BMW built its i7 Protection around its BMW Protection Core, the sedan's body made of ballistic protection-grade steel while adding extra armoring for the underbody, roof, and glass. With that, the i7 Protection can handle gunfire, hand grenades, and even drone attacks with explosives.
BMW added an intercom system so that the driver can communicate with people outside the car without having to open the windows or the doors. The system has microphones integrated into the exterior mirrors and interior headliner, with speakers on the inside and outside. BMW is also adding motorized opening and closing of doors for the first time on any of its models, which makes it a lot easier to open and close the i7 Protection's armored doors.
There's even a heating function for the windscreen and the front sections of the side windows for better visibility. The i7 Protection has a number of add-ons, like a fresh-air supply system, a fire extinguisher with automatic or manual discharge, flashing lights, or radio transceivers that should fit any scenario you might find yourself in.
LUXURY INTERIORS
BMW went above and beyond for its protective features, but it didn't neglect the passenger comfort aspect. The i7 will have a cool box between its rear seats with a two-gallon capacity for cooling down drinks to 39.2 degrees Fahrenheit. The passengers also get electric sunblinds for the rear seats that let you crack it by 10 centimeters to get a view of the outside.
The seats themselves have heating and ventilation features, but you can also spring for the optional massage function. BMW also has an Executive Lounge option that lets you recline the rear seats.
EUROPE ONLY
BMW says it will debut the i7 Protection at the IAA Mobility in Munich show that kicks off in September. The German automaker is only offering the i7 Protection in Europe, with customer deliveries planned to start in December 2023.
The i7 Protection may currently be the only confirmed option for armored EVs, but that won't stop other carmakers from following suit. Land Rover already makes armored ICE cars and has been working on electrifying its portfolio, so we could potentially see an all-electric version of its Range Rover Sentinel model.