Land Rover's Defender EV Will Be a Compact SUV
The all-electric compact SUV could hit dealerships by 2027.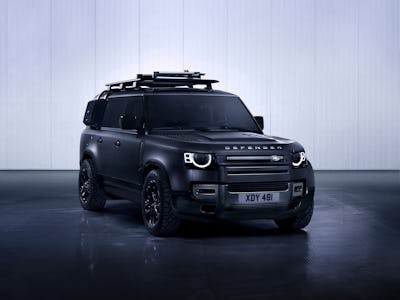 Land Rover
Land Rover wants to make more than just big ol' SUVs. The British automaker is reportedly entering a new market segment with a smaller all-electric Defender SUV that Autocar report says could be called the Defender Sport.
Adrian Mardell, CEO of the carmaker's parent company Jaguar Land Rover, recently confirmed the intention to dive into the compact SUV segment during a recent investor conference. The smaller Defender would help Land Rover round out its current lineup which includes the full-size Defender 130 and the mid-size Defender 110 and 90 models.
FOUR UPCOMING EVS
The smaller Defender EV would join three other upcoming all-electric SUVs from Land Rover. The British automaker previously confirmed that it would release electric models for the Range Rover Velar, the Range Rover Evoque, and the Land Rover Discovery Sport. Land Rover is also working on a Defender that's powered by hydrogen fuel cells, instead of battery packs.
Mardell didn't reveal many other details about the compact SUV, but it will most likely run on Jaguar Land Rover's Electrified Modular Architecture platform that the three other upcoming SUVs will be built on. The EMA platform uses an 800V architecture and is expected to handle 350 kW charging. Autocar also notes that Land Rover will be using new batteries from Tata Green Batteries that will have more energy density than the ones seen in Jaguar's existing I-Pace. Other than that, we can make a fair guess that the smaller Defender will still uphold Land Rover's off-roading spirit and capabilities.
SMALLER SUVS SOON
Autocar says that the compact Defender would arrive in dealerships as soon as 2027. In the meantime, Land Rover will be working on electrifying its lineup, starting with the all-electric Range Rover models that would be available to preorder starting in late 2023. After that, we should get the electric Discovery Sport that's expected to go into production by 2025.