This Ultralight VR Headset Makes Meta's Quest Pro Feel Humongous
You can custom fit the VR headset to your face, so long as you have a modern iPhone.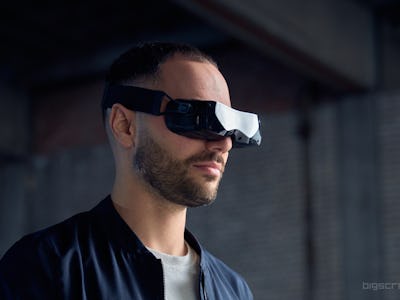 Bigscreen
With so many big and bulky VR headsets out there, we're getting a breath of fresh air with Bigscreen's Beyond headset. Unlike the boxy design of most VR headsets, Beyond was designed to be slim and lightweight, coming in at only 127 grams. Bigscreen is also claiming the title of "the world's smallest VR headset" — a direct challenge to headsets like HTC's Vive Flow.
Bigscreen is more known for its VR app that lets you hang out with friends in VR chatrooms, watch movies together in a virtual movie theater, or play PC games together on a shared screen. The company describes its app as a virtual reality living room and there are plenty of use cases, like watching the Super Bowl together or even going on virtual dates. Obviously, the Beyond headset is compatible with Bigscreen's own app, but it also supports SteamVR games.
Serious specs — Even though Beyond is built as a lightweight headset, it still boasts two one-inch micro OLED displays, each with a 2,560 x 2,560 resolution. The displays have up to a 90 Hz refresh rate, 28 pixels per degree, 93 degrees of horizontal FOV, and 90 degrees of vertical FOV.
The Beyond's three-element optical design uses pancake lenses to keep things thin, allowing the headset to measure less than an inch at its thinnest point. You can even shape the face cushion with a custom fit, but you need to do it through Bigscreen's app and need to have at least an iPhone XR which is capable of mapping your face. If you're planning to share the Beyond headset, the face cushion is attached by a magnetic frame so you can swap the custom fits out.
Beyond is capable of six degrees of tracking using built-in SteamVR tracking, but it requires at least one SteamVR Base Station. You'll also need to invest in some controllers, but Beyond is compatible with Valve Index and HTC Vive controllers. You can make the experience even more immersive by pairing the Beyond with full-body trackers like HTC Vive Trackers or Tundra Trackers.
The Beyond headset has to be tethered to a fairly powerful PC if you want it to run properly. You'll need at least a quad-core processor and an Nvidia GeForce RTX 2070 or AMD RX 5700 XT or newer to use with the Beyond.
Headset only — The Bigscreen Beyond may start at $999, but that price only includes the headset itself. You can choose between the more lightweight soft strap option or the audio strap that's more ergonomic and has built-in sound.
You'll still have to buy compatible VR controllers and at least one SteamVR Base Station to complete the whole setup. The Beyond isn't going to compete with the Meta Quest 2 on pricing, but it likely stands a good chance against more high-end options that are currently on the market like the HTC Vive or the Valve Index.
The Beyond is available for preorder now at Bigscreen's website with first deliveries to U.S. customers anticipated for the third quarter of 2023. Bigscreen is planning for the second wave of deliveries to Canadian and European customers in the fourth quarter of 2023, while the third wave for Japan, Australia, and New Zealand will come in late 2023. Later in 2024, Bigscreen says the Beyond will be available in more countries and regions.