Forcing TikTok into EVs Could be a Slippery Slope to In-Car Bloatware
Volkswagen Group is making its own in-car app store, meaning drivers be able to download apps like TikTok directly onto the infotainment system.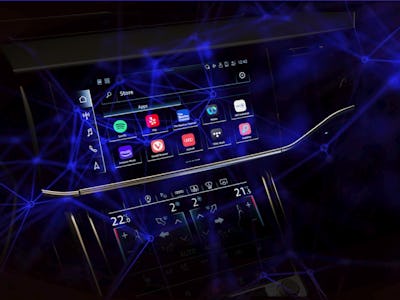 Cariad
TikTok has managed to invade every aspect of our lives, from our smartphones to our smart fridges, and now it's starting to creep into our cars with the help of Volkswagen Group. The German auto conglomerate is building its own in-car software platform that will let drivers download apps directly onto infotainment systems.
It's actually not a bad idea to standardize a platform between all of Volkswagen's car brands, which includes Audi, Porsche, Lamborghini, Bentley, and of course, Volkswagen. However, that platform also opens up its cars to the scourge of third-party apps, particularly those that don't necessarily belong in cars like TikTok.
This comes just after Mercedes-Benz announced plans to create built-in apps for TikTok and Zoom that would be integrated into its E-Class's entertainment system. Automakers seem to think TikTok fits perfectly within their cars' infotainment system, but I can't help but wonder why there's even a need to include a social media app in the first place.
CUSTOM APP STORE
Cariad, Volkswagen Group's automotive software company, is working on developing this standardized in-car software app store for Volkswagen's brands. The Volkswagen app store will be available on several gas-powered Audi models, but also on the E-tron and E-tron GT EV models. Volkswagen Group is planning to integrate the platform into Audis first, but later expand it to its other brands. It's only a matter of time before you can watch TikToks in your Lamborghini.
Cariad says that it has already landed several partners for the Volkswagen app store, with the first batch including music apps like Spotify and iHeartRadio, service apps like Yelp and The Weather Channel, and also TikTok. Most of those apps make sense for when you're driving and want to listen to music or find a nearby bite to eat.
But, integrating TikTok into a car's infotainment system seems more like a hedge towards self-driving cars where people don't need to pay attention while driving. We're still quite far away from actual self-driving cars, but Volkswagen and Mercedes-Benz have no qualms about offering TikTok earlier.
BANNED INTO BLOATWARE
There's also the major question of TikTok's shaky reputation since it's owned by ByteDance, which is headquartered in China. The White House recently ordered government agencies to delete TikTok from any federal devices or systems. A congressional committee also pushed a bill through yesterday that would outright ban TikTok, which is now awaiting a final determination from the president. If TikTok does get banned, it would devolve into bloatware lingering on your car's infotainment system.
We will have to wait to see the real effects of having TikTok in cars, but Volkswagen Group wants to start rolling out its app store with Audi models in July 2023. Similarly, Mercedes-Benz will offer TikTok on its upcoming 2024 model of its E-Class. With two major auto brands adopting TikTok into its interface, other automakers may be interested in following suit, particularly those interested in autonomous driving. The future of people doom-scrolling on TikTok in their self-driving cars until they reach their destination looks closer than ever.