Audi's Flagship Electric Sedan Could Be Its Most Powerful EV Yet
We don't have the official specs yet, but we're expecting more than a 400-mile range and some serious horsepower.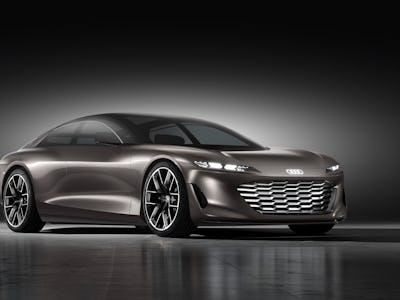 Audi
Audi has re-entered the race for the best fully-electric luxury sedan. According to a report from Autocar, Audi is planning to release its next flagship sedan, the all-electric A8, in 2024. It's not Audi's first take on a premium electric sedan though, since it already has the e-tron GT and a sportier RS trim of it.
The refreshed A8 will ditch its established look for a more futuristic styling that's more in line with Audi's "Grandsphere concept," according to Autocar. If the specs for the updated sedan come anywhere close to the conceptual EV that was revealed back in 2021, it would be a serious upgrade to the current e-tron GT and offer a strong alternative to the likes of Mercedes-Benz's EQS sedan or BMW's i7.
FROM CONCEPT TO CREATION
According to Autocar, the upcoming A8 will be built atop the Premium Platform Electric that was co-developed by Audi and Porsche and meant for larger EVs. The A8 won't be the first to utilize the PPE, since Audi is releasing its Q6 e-tron SUV with the platform sometime this year.
The platform means that the A8 will use a 120 kWh battery that should get somewhere close to the projected 466-mile range of Audi's Grandsphere concept. The A8 will also take advantage of 800V charging and have a maximum charging speed of 270 kW. Audi's Grandpshere concept also claimed 711 horsepower and 708 lb-ft of torque. If all these specs hold up, the refreshed A8 is set to not only be Audi's most powerful EV, but one of its most powerful cars in general.
Since it's built on PPE, the A8 could take advantage of Audi's rear-wheel steering which makes it much easier to hit tight turns. Considering its resemblance to the Grandsphere concept, Audi could pitch the new A8 as a serious step towards an actual autonomous car, too.
MORE SEDANS, NOT SUVS
According to the Autocar report, Audi is planning on putting the A8 on sale next year. We don't have any specifics from Audi, though. However, that timing does make sense considering Audi wants to introduce more than 20 EVs by 2025. Audi already introduced several electrified models, including its flagship electric SUV the Q8 e-tron, and a couple of sporty hatchbacks.
The upcoming electric A8 is a nice step away from all the SUVs we've been seeing. Outside of Audi's own options, other EV makers have been eager to win over drivers over with interesting SUV designs. It's refreshing to see some more flagship sedan options, particularly one that incorporates so many interesting features.