Acura's First EV Will Be Its Most Powerful SUV Yet
The ZDX and ZDX Type S are expected to come to market early next year.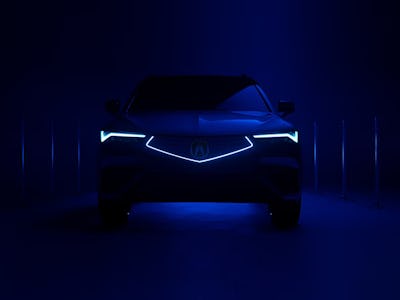 Acura
Acura is going big with its first EV. Acura teased its first official electric vehicle, the ZDX, in a short video showing off the front grille. As the luxury division of Honda, Acura is going to debut the ZDX at the Monterey Car Week which kicks off on August 11 with the EV's full reveal planned for August 17.
Acura previously showed off a conceptual EV during the Monterey Car Week event last year called the Precision EV Concept. Acura didn't have any plans to release the Precision EV Concept but designed it more as a blueprint for its future EVs, which we can see with the illuminated grille of the ZDX.
FIRST ELECTRIC TYPE S
Along with the base ZDX, Acura is planning on making a Type S variant, claiming that it would be "the most powerful and quickest accelerating SUV in Acura history." The fastest accelerating accolade isn't surprising — EVs are known for their instantaneous delivery of torque to the wheels — but the "most powerful" part piques our interest.
Acura hasn't teased any specs yet, but we do know that the ZDX will run on GM's Ultium platform since GM and Honda partnered to co-develop a number of EVs with the platform. Honda is also using the Ultium platform for its electric Prologue SUV, but the Chevy Blazer EV SS that's built on the same platform should give us a better idea of a Ultium-based performance-focused EV.
As for the interior, Acura will be using Google built-in for the first time with the ZDX, which means native compatibility with Google Assistant, Google Maps, and Google Play. Acura will also partner with Bang & Olufsen, integrating the audio systems into all Acura models starting with the ZDX.
ELECTRIC FUTURE
For those who are familiar with Acura's history, this electric ZDX looks a lot different than the ZDX that was discontinued in 2013. While the ZDX that ran on an ICE motor had a more sloped roof, Acura went with a new design language in bringing back the ZDX moniker for its first EV. Acura says the electric ZDX and ZDX Type S will go on sale early next year.