European Countries Are Racing Toward the Continent's First Satellite Launch
Norway, Sweden, and Scotland are entering the space race with their own launch pads. But only one will be first.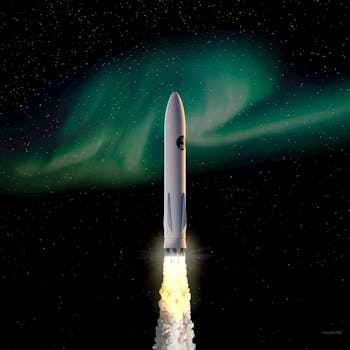 SSC
This past January, Virgin Orbit nearly made history. The private space company's 747 jumbo plane nicknamed "Cosmic Girl" took off from the newly-christened "Spaceport Cornwall" in southwest England. But this wasn't just any jet — Virgin tucked a rocket under its wing.
At 35,000 feet, the LauncherOne rocket detached and fired its thrusters to loft it to space. But things didn't go as planned: In a high-profile failure for Virgin's billionaire founder Richard Branson, the hyped-up rocket and its satellite cargo splashed into the Atlantic Ocean.
Had it reached the cosmos, the Virgin Orbit mission would have marked the first orbital launch from European soil — a major victory in the increasingly competitive commercial space race.
While European countries have sent up plenty of missions, they tend to lift off from launch pads in other regions. These include a spaceport used by various European governments in South America's French Guiana, Russia's Baikonur Cosmodrome in Kazakhstan, or facilities run by SpaceX or NASA in the United States.
But the playing field could soon shift: Several European governments and private companies are erecting their own spaceports to chip out a toehold in the so-called "new space" industry.
If current trends are any indication, these new pads could be plenty busy: One estimate claims that we can expect 1,700 satellite launches a year worldwide by 2030. In comparison, 2022 saw 180 total successful rocket launches.
Location, location, location
When preparing to blast off a rocket, it's tough to choose a location, Derek Harris, the operations manager for a Scotland-based launch company called Skyrora, tells Inverse. The world doesn't have many spaceports at the moment — only about 28 operational facilities exist.
Wait times can stretch as long as two years, he says. Now, launches must also contend with geopolitical instabilities like the war in Ukraine and increasing competition with China.
"That ability to have your own sovereign launch capabilities is a big, big thing," he says. "It's probably how it used to be to have your own air force and navy back in the olden days."
Launching from one's home turf has other advantages, like lowering costs and reducing logistical headaches. Case in point: the James Webb Space Telescope's launch in late 2021 required sending the equipment on a nerve-wracking 6,000-mile, 16-day trans-Atlantic voyage from Europe to French Guiana by ship that had astronomers worldwide holding their breath.
"That ability to have your own sovereign launch capabilities is a big, big thing."
Still, building a spaceport isn't easy — it can cost tens of millions of dollars and comes with lots of bureaucratic red tape. Before jumping through these hoops, companies and countries alike need to decide where exactly to put one.
When it comes to spaceports, the oldest axiom in real estate holds true: It's all about location. Rockets sometimes fall out of the sky, so launches should occur next to vast swathes of unpopulated land. It's also important to avoid commercial airline flight paths.
That's why many existing facilities, like NASA's Cape Canaveral and ESA's Spaceport Guiana, along with upcoming projects in Norway and Scotland, sit on coasts. There, they have hundreds of miles of uninhabited ocean to blast off above.
When picking a spaceport for a satellite launch, space companies have to consider the type of orbit they're planning. Geostationary orbits follow the Earth above the equator, so it's best to take off near there. The rocket will also receive an inertial boost from the extra centrifugal force near the equator, where the Earth rotates more quickly.
For orbits that travel from north to south instead of west to east, it's better to take off from higher latitudes. Many observational satellites move in these polar orbits, or in similar Sun-synchronous orbits. For this purpose, Europe offers a distinct advantage: tens of thousands of miles of northerly coastline.
Scotland goes to space
If all goes well, the new European space tradition may kick off in Scotland. Perched on the northern tip of the Shetland Islands, a new facility from the aerospace company SaxaVord could launch the types of small satellites that companies like SpaceX and Amazon are already using (or hope to use) to deliver broadband internet access from space.
The company is now assembling three launch pads that can handle a total of 30 launches annually, Scott Hammond, SaxaVord's deputy CEO, tells Inverse. Smaller rockets launched at the site could carry up to about 3,300 pounds of payload, enough for a small satellite.
For its new spaceport, SaxaVord took over an old Royal Air Force base on the island of Unst. This location provides a competitive edge, according to Hammond.
"The next stop from Shetland is the North Pole," he says. "That means we can go direct to the orbit that we want to go to."
SaxaVord has already announced a partnership with Skyrora and the German launch company Rocket Factory Augsburg. The U.K.'s Pathfinder launch, set to be the first vertical rocket launch from the country, will also depart from the spaceport this year.
Now, Skyrora is considering a 10- to 20-year contract with SaxaVord and hopes to run multiple annual launches from the spaceport, Harris says.
"Being able to get involved right at the beginning and partner up was very unique," he says. "We've been in the lucky situation where we can work together, so it works out for both parties."
Launches heat up in the Arctic
Skyrora isn't the only business eager to get in on the European spaceport action. Up in Norway, the company Andøya Space is constructing the Andøya Spaceport, which will sit on an island around 190 miles above the Arctic Circle. The German launch service provider ISAR Aerospace has signed a lease for an exclusive launchpad at the spaceport, one of two launchpads currently planned at this location.
Andøya aims to send its first test launch up in the second half of 2023, Stein Linaker Dybvik, Andøya's Spaceport Commercial Director, tells Inverse. Andøya receives little ship and air traffic and isn't near any inhabited areas, according to Dybvik. Though the Arctic environment could pose challenges, he doesn't expect the snowy, frigid conditions to interfere with their operations.
Another Scandinavian power wants in on the action, too. In Sweden, the Esrange Space Center opened up in January of 2023 with a ribbon-cutting ceremony led by the king of Sweden, Carl XVI Gustaf. Esrange earned the title of Europe's first mainland orbital launch complex, though it has yet to launch any rockets. The first scheduled satellite launch from Esrange won't arrive until late 2023 or early 2024.
"It's the result of a very thorough, strategic reflection."
In a major PR boost, European Space Agency chose Esrange as the testing ground for its new Themis rockets. That's because it offers high-tech infrastructure, tracking abilities, and a favorable location, Jérôme Breteau, head of Future Space Transportation systems at ESA, tells Inverse.
"What we see at Kiruna is not the result of chance," he says. "It's the result of a very thorough, strategic reflection."
The Themis program aims to build reusable rockets that return to Earth intact, much like the rockets currently made by SpaceX and Blue Origin. If not for Esrange, ESA might be shipping these rockets to French Guiana today, at great cost and logistical hassle. Like NASA, ESA no longer seeks total control over the launch process and collaborates with businesses on certain tasks and vehicle parts.
"The idea is that we don't plan anymore to explain to industry what they should have for breakfast, lunch, and dinner," Breateau says. "We are more and more shifting to a service procurement approach where the risk stays with the industry."
Space, portal to the future
Regardless of which spaceport wins the European satellite race, the continent is making its mark on the industry. For one, the Scottish city of Glasgow says it makes more satellites today than any other city outside of Silicon Valley.
Meanwhile, rocket companies are cropping up in the U.K., Germany, Poland, France, Italy, and Spain, each vying for time on launch pads. That competition could reduce launch prices and ensure speed and flexibility from businesses.
As for Virgin Orbit, the company is planning another LauncherOne flight soon, though it hasn't yet released details. Like most of the company's launches so far, that rocket is taking off from California at the Mojave Air & Space Port.
So for the moment, Europe has yet to send off a satellite and forever shift global space politics — but that could change in mere months.
Subscribe to Horizons
These are the innovations of today that will shape the world of tomorrow. Subscribe for free to Inverse's weekly HORIZONS newsletter.