2019 tech predictions for Tesla, Apple, hyperloop and more: how did we do?
The year is over. It's judgement time.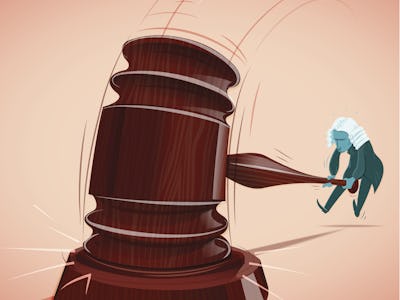 soberve / Getty 
Another year, another slew of technology breakthroughs. But as 2019 draws to a close, how did it fare with our expectations 12 months prior?
It was a bumper year for science and technology. SpaceX unveiled the Starship Mk.1, designed to send humans to Mars. Solar energy dropped to cheaper prices than ever, undercutting coal. The electric car picked up steam as infrastructure improved and prices plummeted.
As Inverse looks back on its 19 predictions for 2019, there's a number of surprises. The Boring Company had a muted year, and the Samsung Galaxy Fold had a tough launch. But Facebook did bring stablecoins to the mainstream, a car did travel across the United States autonomously, and xCloud did show video gaming streaming could be fast.
As the year draws to a close, here's what we got right and wrong:
This one is slightly hard to gauge. Neither Microsoft nor Sony has released any official images of their next-generation video game consoles, but Sony announced the PS5 in April and confirmed several features including a solid-state drive and haptic controllers. Microsoft also revealed more details about "Scarlett," and Xbox head Phil Spencer confirmed via Twitter in December that he was using the new machine as his primary console. But as we have no images, finalized specs, release date or price, it's hard to describe either console as "launching."
Verdict: Close, but no cigar.
Microsoft did indeed launch its video game streaming service to select beta testers, and it does also seem to offer a particularly smooth experience. TechRadar praised its "smooth imaging and the ability to run at a lower latency than its competitors," while WCCFTech described it as "already as polished and on par of an experience as Google's paid Stadia service." However, the service has still not fully launched out of beta, meaning its unclear how it will hold up with thousands more users.
Sony cut the price of PlayStation Now over this year and has seemingly improved its reliability. Despite these boosts, a December article from The Verge declared the company had "squandered" its purchase of cloud gaming startup Gaikai in 2012.
Verdict: Too early to say.
If anything defined the past year in cryptocurrency, it's Libra. The Facebook-backed cryptocurrency, set to launch next year, caused a flurry of interest thanks to its partnerships with big-name firms like eBay and Stripe. It's backed by a basket of assets, unlike free-floating tokens like bitcoin, giving it a stable price. The June announcement coincided with a surge in the price of bitcoin. Although financial firms like PayPal, Visa and MasterCard have pulled out, it seems Libra's big reveal is one of the biggest stories of this year.
Verdict: Libra makes this a win.
Pronto.AI released footage in December 2018 of controversial engineer Anthony Levandowski driving 3,099 miles from San Francisco to New York in a modified Toyota Prius with zero interventions. This perhaps highlights the problem with this milestone — Levandowski may have driven across the states in a self-driving car, but it's still science fiction for the majority of the world.
Verdict: A win, but does it prove much?
The Model Y compact SUV did indeed launch in March 2019. Perhaps emblematic of how electric vehicles have reached the mainstream, its launch made a much smaller splash compared to the Model 3 that hit roads two years prior. The vehicle is also launching in a much more crowded marketplace, as competitors have started to offer similar vehicles in the same price range.
Verdict: Model Y's muted launch scores a win.
The iPhone 11 launched in September 2019, but retained the familiar Lightning charging port present since 2012. Instead of jumping to the Android-favored USB-C, analyst Ming-Chi Kuo claimed this week that Apple could jump to an all-wireless device by 2021.
Verdict: A miss, and unlikely anytime soon.
Bitcoin not only stayed the biggest cryptocurrency in terms of market, cap, it did it by a long shot. The coin started off the year commanding 51 percent of the market, continued the year never dropping below 50 percent, and entered December on 67 percent.
Verdict: Bitcoin stays the biggest coin and makes this a win.
Ouch. Few could have foreseen the furore around the Samsung Galaxy Fold, after reviewers found you could break the device by peeling the screen. The company eventually withheld the launch, releasing a tweaked version in September. The foldable Motorola Razr looks set to bring the folding phone to a timeless design classic, but Samsung's misfortune means folding phones got off to a very shaky start.
Verdict: Samsung's failure to launch makes this a miss.
Oculus Quest indeed launched to impressed reviews. A self-contained virtual reality headset for $399! But Sony is still expected to remain the market leader with PlayStation VR, and the virtual reality video gaming market is expected to bring in around $15 billion revenue this year.
Verdict: A win for this nascent technology.
Tesla Model 3 did indeed leave North America. Its launch helped Norway reach an historic crossover point where new cars were more electric than non-electric for the first time. The car's laucnh in China sparked traffic lines as people raced to register their car. In the third quarter Tesla delivered a record 97,000 vehicles.
Verdict: A win as Model 3 makes big waves.
This didn't quite pan out. Top Gear said in its Jaguar I-Pace Review that its claimed 298-mile range was "ambitious." The Audi e-tron received an EPA rating of just 204 miles. The Mercedes-Benz EQC 400 was described by The Driven as coming to around 186 miles in real-world drives. The long-range Tesla Model X, by comparison, can reach 328 miles per change.
Verdict: A miss for Tesla's competitors.
SpaceX did indeed start its hop tests, sending the Starhopper 150 meters in the air in August before unveiling a full-size prototype in September of the ship that could one day go to Mars.
Verdict: A win for space travel.
NASA and SpaceX did not enjoy the best relationship this year. Following a testy exchange of words between SpaceX CEO Elon Musk and NASA administrator Jim Bridenstine, the pair agreed in October that a manned flight would take place in spring 2020.
Verdict: One small miss for man, one giant miss for mankind.
Apple released macOS Catalina in September with support for ported iPad apps, not the same as dropping the processor but a small move toward unity. Perhaps a bigger shift, however, was Axios claiming that Intel and other developers are preparing for a ditch. Bloomberg reiterated this claim in October. Neither of these are anything official, however.
Verdict: Too hazy to say.
5G indeed started rolling out, but remains a curiosity. Apple did not release a 5G iPhone this year, and Ericsson Mobility released a report in June that claimed it would account for 1.9 billion subscriptions by 2024.
Verdict: A quiet win for 5G.
Tesla did end up releasing new Solar Roof products, but not in the way many expected. The third-generation tiles are set to make installations smoother than ever. No sign of any new styles, however.
Verdict: A technical miss.
Hyperloop indeed set a new speed record, but not quite fast enough. TUM Hyperloop set a record in June 2019 of 288 mph at the fourth SpaceX competition. The team may have better luck next year, when SpaceX is set to lengthen the track from 0.8 miles to 6.2 miles.
Verdict: A miss for the train of the future.
The company started work on its Las Vegas tunnel last month, but it's otherwise been a pretty quiet year for the tunnel-digging venture. Mixed reactions from cities suggest sentiment has cooled around the venture. Public works projects take time.
Verdict: Mostly a miss.
Perhaps surprisingly, the iPad didn't get iOS 13 this year — in part because it's now known as iPadOS for that device. iPadOS 13 brought a number of much-requested features like a tweaked home screen and better multitasking functions. ZDNet suggested the gadget could be on its way to replacing the laptop. It depends on what each person uses their laptop for, but with the new multitasking functions it became a far less painful experience.
Verdict: A win…depending on the person.