NASA and SpaceX to launch Commercial Crew by first quarter of 2020
Bridenstine would really like to stop buying Soyuz seats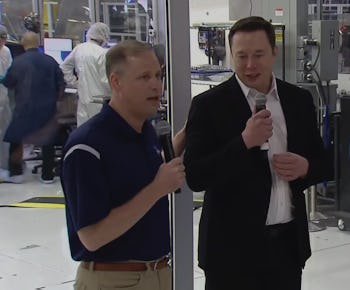 NASA
Following a brief fallout that played out in public, NASA Administrator Jim Bridenstine and SpaceX CEO Elon Musk appeared to be on good terms again during a press conference Thursday.
Speaking to journalists at the SpaceX headquarters in Hawthorne, California, Bridenstine announced that a Commercial Crew test flight will take place in the spring of 2020.
"If everything goes according to plan, it will be in the first quarter of next year," Bridenstine said. "There are still things that we can learn, or could learn, that could be challenging and we have to resolve."
"I'm not saying that's going to happen, I don't know. That's why we test," he added.
There are key safety tests that will determine whether or not Crew Dragon, the in-development crew capsule being developed by SpaceX, would be able to launch next year, Bridenstine said.
Back in 2014, NASA signed multibillion dollar contracts with SpaceX and Boeing to transport astronauts to low-Earth orbit and the International Space Station as part of the agency's commercial crew program. The deal had an initial goal of having one of these spacecrafts up and running by the end of 2017 and, needless to say, it's suffered some major delays.
The two stood side-by-side at the press conference Thursday, reiterating their common support for one another.
"The launch of the crew is something that we've been working towards for 17 years," Musk said. "This is the reason SpaceX was created, we're incredibly honored to partner with NASA and to make this happen."
Meanwhile, Bridenstine highlighted the larger goal of this public-private venture — which is to end the reliance on foreign governments to launch American astronauts into space.
"Elon and I are in strong agreement on this, that the one thing we have in development that is of the highest priority is launching American astronauts on American rockets from American soil," Bridenstine said, as Musk nodded in agreement.
As it stands today, NASA transports its astronauts from Earth all the way up to the ISS using Russia's Soyuz spacecraft. And Bridenstine would really, really like to see that change.
The US and Russia have been locked in an eternal space race, each flexing their aerospace capabilities and competing to achieve space travel milestones.
Even though Bridenstine claimed that US-Russian geopolitical relations have not affected their space partnership of hitching rides on Russia's spacecraft, he made it clear that NASA wants to be less dependent on its Russian counterpart.
"The partnership that we have with Russia is important," Bridenstine says. "But we also want it to be a partnership, we don't want to have to pay $85 million every time we launch an American astronaut on a Soyuz rocket."
Instead, Bridenstine envisions a near future where both parties use each other's spacecraft to launch into low-Earth orbit.
"We are on the cusp of making that a reality, and in order to make it a reality we're gonna need our commercial crew partners and SpaceX is a big, big partner on this project," Bridenstine added.