Elon Musk and NASA chief try a public reconciliation after their awkward fight
But Musk slides in one more veiled criticism of NASA's long-delayed SLS rocket.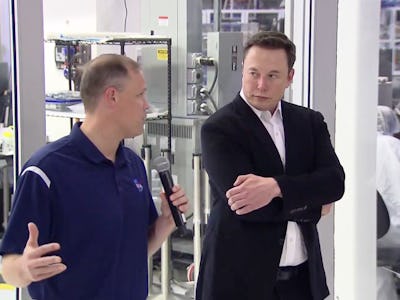 NASA
The SpaceX crew dragon capsule will fly in the first three months of next year, SpaceX CEO Elon Musk and NASA Administrator Jim Bridenstine said on Thursday — assuming nothing goes wrong.
The chiefs of their respective agencies took questions from the media on the floor of SpaceX headquarters in Hawthorne, California, after what's been a tumultuous two-week period between the two. On September 27, the eve of Musk's long-awaited update on Starship, the gleaming stainless steel rocket he's building in South Texas, Bridenstine lobbed a passive aggressive tweet at SpaceX. SpaceX's Crew Dragon capsule, designed to carry astronauts to the International Space Station, is "years behind schedule. NASA expects to see the same level of enthusiasm focused on the investments of the American taxpayer."
The next night in South Texas, Musk was asked about it. He laughed and mockingly asked, "Did he say Commercial Crew or SLS?" Musk was referring to NASA's long-delayed, heavily budgeted Space Launch System, the in-development rocket system that is years behind schedule.
But it's clear the two want their awkward back-and-forth to be forgotten, with each verbally offering their support for each other on Thursday. Bridenstine explained that the tweet came from his perspective as an agency administrator.
"I have been focused on returning to realism when it comes to cost and schedule," he said when asked by a reporter about the tweet. "I haven't done it just to SpaceX, but to all our contractors, that we need more realism built into all our timelines."
The two also announced that the SpaceX crew dragon will make its first test flight in the spring of 2020, if development goes to plan. A Navy and Marines test pilot will carry out that first test flight.
Also read: NASA and SpaceX to launch Commercial Crew by first quarter of 2020
Bridenstine also took a dig at the Obama adminstration's NASA budget cut of 2012, blaming it for slowing the development of the commercial crew program. "If you go back to 2012, we had a commercial crew program ready to go but the funding got cut," he said.
But Musk made the most interesting comment of the day, when he subtly took a dig at the long-delayed SLS rocket development, again.
"The same years that commercial crew was dramatically underfunded, some other unmentioned programs were over-funded."
"The NASA request for commercial crew for several years was substantially reduced by Congress," he said. "It's pretty hard to stay on schedule if you've got half as much money. We didn't spend more money, it just took longer. The same years that commercial crew was dramatically underfunded, some other unmentioned programs were over-funded."
The other "unmentioned program" was SLS, which received $2.6 billion for SLS development in 2012. Meanwhile, funding for commercial crew development, which goes to SpaceX, has historically been significantly lower than requested in every year of its existence.
Perhaps sensing he hadn't fully closed the book on his passive agressive tweet from two weeks ago, Bridenstine seized the opportunity to make one more concilatory comment after reporters finished their questions.
"I want people to make no mistake that NASA has an interest in seeing starship be successful," Bridenstein said, unprompted.
He went on to mention that NASA is working with SpaceX in developing technology to communicate with ships as they travel further into space, and that the NASA Mars Reconnaissance Orbiter circling the planet, as well as NASA rovers on Mars, are doing research as to the best place for a SpaceX Starship to land on the red planet when the day comes.
"Crew Dragon is absolutely the overwhelming priority, and maybe 5 percent of SpaceX resources are on Starship," Musk added, citing a stat he's mentioned before when asked about what appears to be a conflict to the public.
After all, there have been fewer splashy Crew Dragon updates than updates on Starship, the most recent of which was held in primetime on a Saturday night, complete with sci-fi-styled videos.