Inverse Daily: The Nebulous World of Dank Vapes
Around the country, people are being hospitalized for vaping-related injuries. Meanwhile, a shadow economy for black market vapes is thriving.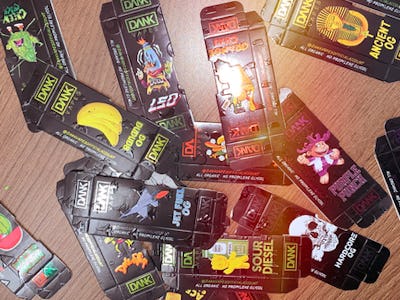 What's good, Inverse Daily fam? While I'm in awe of the truly inspired choreography in the new Normani video, let's get you caught up on today's news.
You're reading an adapted version of the Inverse Daily newsletter. Subscribe for free and earn rewards for reading every day.
INVERSE QUOTE OF THE DAY
"Superdeep diamonds are our window into the deep Earth."
— Suzette Timmerman, who is completing a Ph.D. in diamonds, on the ancient gems discovered in western Brazil.
Send Nukes
Elon Musk has denied allegations that he's an evil supervillain, but it's hard to shake the association when the tech billionaire does things like tweet "Nuke Mars!" and be completely serious about it. Musk's characteristically bold tweet last Friday was a reference to his plans to terraform Mars and turn it into a habitable planet. Right now, it only has a very thin atmosphere, which means it'd be impossible for us to walk around its surface and breathe normally. But Musk says that nuking the planet can release the frozen stores of carbon dioxide at its poles, and doing so would allow people to get by while wearing a breathing apparatus.
The theory gets even wilder. If nukes release enough of Mars' carbon dioxide, it can induce a self-sustaining climate change, much like what's currently happening on Earth, Mike Brown tells me. On Mars, that would be a good thing (at least for human colonizers). The planet is deathly cold (about minus 81 degrees Fahrenheit), so life there could theoretically benefit from some global warming. That said, there's no guarantee it would work — the clouds the nukes produce might cool the planet further — and we don't exactly have the best track record when it comes to experimenting with nature.
Read up on this not-completely-insane theory.
The more you know:
Dank and Dangerous
Interest in the science of vapes runs high over here at Inverse HQ, so we were especially intrigued by the news, a few weeks ago, that a group of teens in Wisconsin were hospitalized after vaping. Scientists have already raised concerns about vaping's association with illnesses like wheezing and "popcorn lung," so it didn't seem surprising at first. But when Emma Betuel looked deeper into the story, she discovered that it wasn't so much vaping that was to blame but one specific, black market kind of vape.
Her deeply reported story exposes the strange underground world of Dank Vapes, which isn't so much a product or a particular company but a brand, based in California. Dank Vapes-branded packages can be bought on Amazon and filled with pretty much anything then sold — sometimes to unwitting teens. Issues with dangerous Dank Vapes-branded goods have become so pervasive that a vigilante crew of "Dankbusters" has emerged to test products in labs.
Dive into the bizarre, nebulous world of Dank Vapes.
The more you know:
Lock it Up
America's gun violence situation is completely out of control, as the 261 mass shootings this year illustrate. While US politicians debate the merits and drawbacks of more stringent gun control laws, researchers have been hard at work studying the patterns of gun ownership that lead to fatal situations. As Peter Hess tells me, new research shows that certain interventions can actually help reduce gun violence that leads to suicide.
A grim reality in 2019 is that suicide rates are increasing all over the world, and access to firearms plays a big role in the likelihood that someone will hurt themselves when they're in distress. According to data from the Department of Defense, it's a particularly big problem among US military personnel. A surefire way to curb this issue, say researchers, is to enforce safe firearm storage. But critics aren't convinced. They're worried that the approach ignores the potential benefits of stricter gun control laws.
Read up on what "safe firearm storage" actually entails.
The more you know:
Musk Reads
Elon Musk is pushing the boundaries of where we can go and what we can do. Don't miss a beat by signing up for Musk Reads, our newsletter about all things SpaceX, Tesla, and The Boring Company.
Space Cells
It's kind of amazing that human organ replacement has become such a routinely life-saving medical practice that hospitals experience crippling shortages of donor organs. To remedy the shortages, researchers are hard at work trying to figure out how to grow new organs — say, a kidney or a liver — from stem cells in order to reduce our dependence on human donors.
After all, the demand for newer, healthier parts doesn't seem like it'll be decreasing anytime soon. As long as humans get older and sicker, "replacement parts" will always have value, and that may hold true even when humans depart Earth and start to populate space. Future-focused scientists are already studying how stem cells will behave in microgravity. Last week, a 250-strong team of scientists from the University of Pittsburgh announced a multi-year research alliance with the US National Laboratory aboard the International Space Station to explore the field further.
Discover how differently stem cells act in space.
The more you know:
Can't Hear You
This week, we're sending one lucky reader a new set of Apple AirPods. All you have to do is invite your friends to read Inverse Daily.
How it works:
Use your personal referral code to enter our raffle.
Each time you refer a friend to Inverse Daily, you get a ticket entered. 1 referral = 1 ticket.
We'll accept entries for the rest of the week and announce the winner in our Friday newsletter. Good luck!
Today's Good Thing
Today, that's the UK's water companies, which have pledged to plant 11 million new trees by 2030 in an effort to help the country go carbon neutral. It's a nice follow-up to Ethiopia's incredible feat of planting 350 million trees in a single day last month. America, we're looking at you!
Meanwhile …
Son of Sam: The disturbing true story behind Mindhunter Season 2's new killer.
Scientists debunk a common theory about being left-handed.
Who is Namor? Learn why Marvel's Aquaman may be Black Panther's next nemesis.
Inverse Loot
Subscribe to Inverse Loot and learn about these deals first.
Thanks for reading, gang!
Thoughts on Elon Musk's scheme to nuke Mars? Let me know your thoughts at yasmin@inverse.com.
Say my shoe game nuts, so I call 'em cashews,
— Yasmin