4 Robot Vacuum Cleaners That Will Transform the Look of Your Carpet
Be off the hook for vacuuming.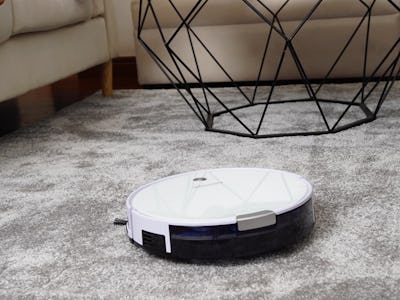 unsplash
I know I'm not the only one who thinks we should be further along in the housekeeping robot department. It's 2019, so I'm not quite sure why I'm still cooking dinner every night… there should be a robot for that. But there is one housekeeping task that we could potentially be completely off the hook for, and that's vacuuming. When it comes to exceptional gadgets for your home, robot vacuum cleaners are at the top of everyone's must-have list.
iRobot is the pioneer of robot vacuums, and they continue to lead the pack. The iRobot's powerlifting suction delivers superior pick up, and the multi-surface rubber brushes consistently adjust to remain in constant contact with the carpet, giving your home a cleaner clean. What's more, it automatically recharges and resumes the job wherever it left off. Got pets? No worries, the high-efficiency filter traps 99% of pet allergens.
The eufy BoostIQ RoboVac 11S is praised for its quiet cleaning and multiple cleaning modes. The eufy 's slim design makes it shorter than most robot vacuums, allowing it to get under those hard-to-reach places. But don't let its small stature fool you: its Boost IQ technology significantly amps up the suction power, so we're talking next-level cleaning. The entry-level price point and superior cleaning power make this one a customer favorite.
When it comes to bang for your buck, the Roborock robot vacuum packs a lot of punch—it's a vacuum and a mop rolled into one nifty unit. The Roborock is superior house cleaning meets tech. The unit can self recharge and avoid stairs and furniture. What's more, it uses smart navigation to map your home for the ultimate in clean. You might think that a vacuum-mop combo would be a messy proposition, but the Roborock has it dialed in. All dust is efficiently drawn into the dust bin, and the mop works just as well, never leaving water streaks or stains.
The Samsung POWERbot boasts a ridiculous amount of vacuum suction, and that, my friends, means a good, deep cleaning for your carpet. Easypass wheels move easily over any obstacle, and it also transitions smoothly from hard surfaces to carpet. The Samsung POWERbot also features Wi-Fi connectivity, allowing you to control your unit remotely using a smartphone.