Vote for Inverse's SXSW Panels on Brains, Drugs, Sex, and the Internet
Help us make Austin weirder.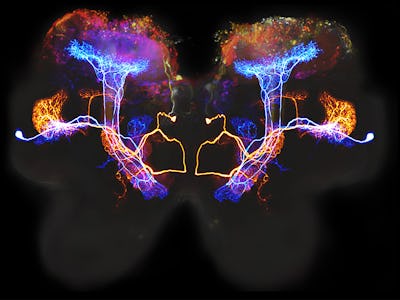 Flickr / NICHD NIH
Inverse has set its sights on South by Southwest 2018, with panel proposals on the weird ways that science and tech are changing the world. Vote for them here (search for "Inverse" to see them all) between August 7 and 25 to send us to Austin in March.
Here's what's in the running:
Researcher James Fadiman is leading the first major study on the effects of LSD microdosing on daily life, with early results showing that participants report greater creativity, more energy, and more focus. He'll speak with Inverse reporter Jacqueline Ronson about findings from the study and other microdosing research. And yes, they'll discuss microdosing safety and legality.
The Kinsey Report is nothing compared to what we're learning from porn searches around the world. Inverse's Emily Gaudette moderates a panel on porn data insights with Chris Jackson from Pornhub, Cacilda Jethá, co-author of Sex at Dawn: How We Mate, Why We Stray, and What It Means for Modern Relationships, and Aella, sexuality data analyst and Reddit's most popular r/GoneWild creator. They'll cover the latest insights about human sexual preferences, what patterns are emerging in how people look at porn, and what the future holds for this field.
Inverse's Rafi Letzter moderates a discussion on one of the most important mysteries in science: the human brain. It turns out we don't know understand even the most basic laws of the brain, like where brainwaves come from or what consciousness is, which means that scientists in this area are stuck in a pre-Newtonian age. Rafi will talk to a leading neuroscientist and psychologist about what we know, what we don't know, and what's coming next.
How can startups and creators survive an increasingly likely end to Net Neutrality in the United States? Inverse's Nick Lucchesi moderates a panel on navigating this uncertain future, bringing together Melissa Tidwell, General Counsel at Reddit; Corynne McSherry, Legal Director of the Electronic Frontier Foundation, and Dave Nemetz, CEO of Inverse and co-founder of Bleacher Report. They'll talk about how this scenario affects the future of online media, what's coming next with regulation, and what we all can do to help.
You know psychedlics are making a comeback when Inverse has two panel proposals on them! In this one, our reporter Sarah Sloat talks about the rise of crowdfunded research for LSD, psilocybin, MDMA, and more, as altruistic individuals are filling the gap left by a dearth of government and corporate funding. Joining her on the panel will be David Bronner, the CEO of Dr. Bronner's organic pure-castile soap, who has paid millions to fund research in this field, and Rick Doblin, founder of the Multidisciplinary Association for Psychedelic Studies.
Thanks for the votes — and for joining our voyage into the future at Inverse.