How to Make the Most of Topaz and Numby, Honkai: Star Rail's New Dynamic Duo
Topaz comes with a little buddy. Perfect design, no notes.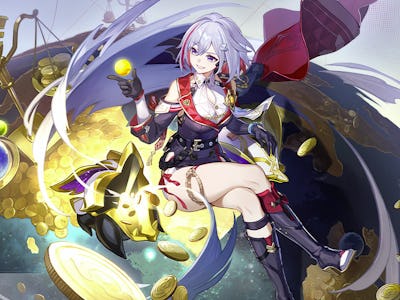 HoYoverse
With every major update, the roster of Honkai: Star Rail continues to grow. Phase 2 of version 1.4 continues this trend with the introduction of the latest character banner for Topaz and Numby, a package deal full of follow-up attack power. Alongside the returning Seele banner, Topaz and Numby offer even more DPS options for players to add to their team. If you are lucky enough to get Topaz and Numby before their banner ends, then follow this build guide to make the most of the new pair.
How to Build Topaz and Numby in Honkai: Star Rail
Topaz is a five-star Fire Hunt character whose skillset prioritizes the CRIT Rate and ATK stats. Topaz relies on her adorable partner Numby to inflict follow-up attacks and keep constant pressure on the enemy. To take advantage of her skills, players should focus on increasing Crit Rate, which will improve follow-up attacks and ATK, as Topaz's skills scales with this stat, through Ornaments and Relics. Due to her focus on follow-up attacks, players will find Topaz shares a lot of tactics and build sensibilities with Seele, who also has a returning banner in Phase 2 of Version 1.4.
Best Light Cones for Topaz and Numby
As a five-star character, Topaz has a Signature Light Cone available on the Brilliant Fixation limited banner. "Worrisome, Blissful" has the benefit of increasing the wearer's CRIT Rate and follow-up DMG, which pairs well with Topaz's ability to inflict consecutive attacks. Another good five-star option is "Sleep like the Dead."
If you haven't had enough luck to gather these five-star Light Cones, then "Swordplay" or "Only Silence Remains" are both great four-star alternatives that complement Topaz's skills.
5-Star Light Cones
Worrisome, Blissful – Increase the wearer's CRIT Rate by 18 percent and their follow-up attacks' DMG by 30 percent. After the wearer uses a follow-up attack, apply the Tame state to the target, adding up to two stacks. When allies hit enemy targets under the Tame state, every Tame stack increases the CRIT DMG dealt by 12 percent.
Sleep Like the Dead – Increases the wearer's CRIT DMG by 50 percent. When the wearer's Basic ATK or Skill does not result in a CRIT Hit, increases their CRIT Rate by 60 percent for one turn. This effect can be only triggered once every three turns.
4-Star Light Cones
Swordplay – Each time the wearer hits the same target, DMG dealt increases by 16 percent, stacking up to five times. This effect is dispelled when the wearer changes targets.
Only Silence Remains – Increases the wearer's ATK by 32 percent. If there are two or fewer enemies on the field, increases the wearer's CRIT Rate by 24 percent.
Best Relics for Topaz and Numby
When it comes to Relics for Topaz, the best strategy is to focus on sets that relate to her DMG and ATK stats. The best option is the four-piece Firesmith of Lava-Forging set, which increases the wearer's Fire DMG by 10 percent, increases skill DMG by 12 percent, and increases Fire DMG by another 12 percent on the next attack after unleashing the wearer's Ultimate.
Another option is to combine a two-piece Firesmith of Lava-Forging set with a two-piece Musketeer of Wild Wheat set. This will increase the wearer's Fire DMG and ATK by 10 percent.
Best Ornaments for Topaz and Numby
As for Ornaments, the ideal option for Topaz to equip is the Inert Salsotto set. This Ornament set increases the wearer's CRIT Rate by 8 percent and increases follow-up attack DMG by 15 percent when the wearer's CRIT Rate reaches 50 percent or higher.
Honkai: Star Rail is now available on iOS, Android, PlayStation 5, and PC.