How to Make the Most of Seele, Honkai: Star Rail's Returning DPS Powerhouse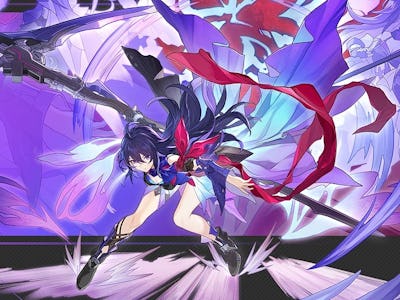 HoYoverse
With every major update, the roster of Honkai: Star Rail continues to grow. Way back in Version 1.0 the very first character added to the game was Seele, a DPS character that still tops tier lists. Phase 2 of Version 1.4 if Honkai: Star Rail brings her banner back, giving players whose warp luck didn't pan out the first time around a second chance to add Seele to their team. If luck is on your side this time, follow this build guide to help Seele live up to her full potential.
How to Build Seele in Honkai: Star Rail
Seele is a five-star Quantum Hunt character whose skillset prioritizes the CRIT Rate and SPD stats to become an efficient damage dealer. Seele is fast and hits hard, with the added bonus of being able to inflict consecutive attacks after defeating an enemy. This means that, if built properly, you can complete an entire battle with only Seele taking any actions. To take advantage of her skills, players should focus on increasing SPD and CRIT Rate through Ornaments and Relics to keep Seele attacking as often as possible.
Best Light Cones for Seele
As a five-star character, Seele has a Signature Light Cone available on the Brilliant Fixation limited banner. "In the Night" has the benefit of increasing the wearer's CRIT Rate and DMG, which, when paired with Seele's ability to inflict consecutive attacks, turns her into a DPS powerhouse. Another good five-star option is "Sleep Like the Dead."
If you haven't had enough luck to gather these five-star Light Cones, then "Swordplay" or "Only Silence Remains" are both great four-star alternatives that complement Seele's skills.
5-Star Light Cones
In the Night – Increases the wearer's CRIT Rate by 30 percent. While the wearer is in battle, for every 10 SPD that exceeds 100, the DMG of the wearer's Basic ATK and Skill increases by 10 percent, and the CRIT DMG of their Ultimate increases by 20 percent. This effect can stack up to six times.
Sleep Like the Dead – Increases the wearer's CRIT DMG by 50 percent. When the wearer's Basic ATK or Skill does not result in a CRIT Hit, increases their CRIT Rate by 60 percent for one turn. This effect can be only triggered one time every three turns.
4-Star Light Cones
Swordplay — For each time the wearer hits the same target, DMG dealt increases by 16 percent, stacking up to 5 times. This effect will be dispelled when the wearer changes targets.
Only Silence Remains — Increases the wearer's ATK by 32 percent. If there are two or fewer enemies on the field, increases the wearer's CRIT Rate by 24 percent.
Best Relics for Seele
When it comes to Relics for Seele, the best strategy is to focus on sets that relate to her DMG and ATK stats. The best option is the four-piece Genius of Brilliant Stars set, which increases the wearer's Quantum DMG by 10 percent as well as ignoring 10 percent DEF on enemies.
Another option is to combine a two-piece Genius of Brilliant Stars set with a two-piece Musketeer of Wild Wheat set. This will increase the wearer's Quantum DMG and ATK by 10 percent.
Best Ornaments for Seele
As for Ornaments, the ideal option for Seele to equip is the Rutilant Arena set. This Ornament set increases the wearer's CRIT Rate by 8 percent as well as increasing Basic ATK and Skill DMG by 20 percent when the wearer's CRIT Rate reaches 70 percent or higher.
Honkai: Star Rail is now available on iOS, Android, PlayStation 5, and PC.