Everything We Know About Jingliu, Honkai: Star Rail's Sword Master
The leader of the High-Cloud Quintet enters the fray.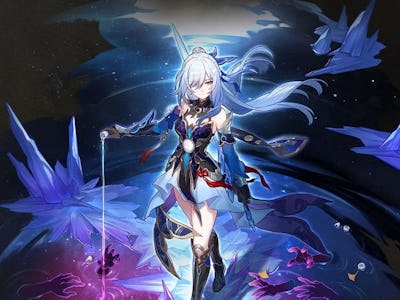 HoYoverse
Trailblazers in Honkai: Star Rail have gotten acquainted with a variety of characters (friends and foes, alike) aboard The Xianzhou Luofu, including Jingliu. In version 1.4, the former sword master driven mad by Mara joins the game's roster as a playable character. Here is everything we know about Jingliu, including her skill set and when she launches.
When Does Jingliu Come to Honkai: Star Rail?
Patch 1.4 launches on October 11 and will bring with it two new banners, the first phase of which, "Gentle Eclipse of the Moon," includes Jingliu.
The banner second starts on October 27, which is also when Jingliu's banner will go away.
There's also a third banner, but that features returning character Seele.
What Are Jingliu's Abilities in Honkai: Star Rail?
Jingliu is a five-star Ice Destruction character, wielding the Ice element with a skillset perfect for massive damage output. During the Honkai: Star Rail Version 1.4 "Jolted Awake From a Winter Dream" Special Program, HoYoverse gave a detailed look at what Jingliu will bring.
As per HoYoverse, here are Jingliu's abilities:
Basic ATK: Lucent Moonglow – Deals Ice DMG to a single enemy target.
Skill: Transcendent Flesh – Deals Ice DMG to a single enemy target and gains a number of stacks of Syzygy.
Enhanced Skill: Moon on Glacial River – Deals Ice DMG to a single enemy target and a proportional amount of Ice DMG to adjacent targets. Consumes a number of stacks of Syzygy. The ability doesn't consume Skill Points.
Talent: Crescent Transmigration – When Jingliu has a number of Syzygy stacks, she enters the Spectral Transmigration state with her Action advanced, and her CRIT Rate increases. Then, Jingliu's "Transcendent Flash" Skill is enhanced to "Moon on Glacial River," and only this enhanced Skill is available for use in battle. When Jingliu uses an attack in the Spectral Transmigration state, she consumes HP from all other allies equal to a percentage of their respective Max HP (this cannot reduce allies' HP to lower than 1). Jingliu's ATK increases proportionately based on the total HP consumed from all allies for this attack, capped at a percentage of her base ATK, lasting until the current attack ends. Jingliu cannot enter the Spectral Transmigration state again until the current Spectral Transmigration state ends. Syzygy can stack up to 3 times. When Syzygy stacks become 0, Jingliu will exit the Spectral Transmigration state.
Technique: Shine of Truth – Using this Technique creates a dimension around Jingliu that lasts for a duration that inflicts Freeze on all enemies in this dimension. After entering combat with enemies in the dimension, Jingliu immediately regenerates Energy and obtains a number of Syzygy stacks, with a chance of freezing enemy targets for a number of turns. While Frozen, enemy targets cannot take action, and receive additional Ice DMG at the start of every turn. Only 1 dimension created by your team can exist at a time.
Ultimate: Florephemeral Dreamflux – Deals Ice DMG to a single enemy target and a proportional amount of Ice DMG to adjacent targets. Gains a number of Syzygy after the attack ends.
Should You Pull For Jingliu's Light Cone?
Accompanying Jingliu's banner will be the Light Cone banner "Brilliant Fixation." This banner rewards the five-star Light Cone "I Shall Be My Own Sword." As this is Jingliu's Signature Light Cone, you should pull for it while the banner is going if you plan on using Jingliu in your party.
"I Shall Be My Own Sword" increases the wearer's CRIT DMG by 20 percent. When an ally gets attacked or loses HP, the wearer gains 1 stack of Eclipse, up to a max of 3 stacks. Each stack of Eclipse increases the DMG of the wearer's next attack by 14 percent. When 3 stacks are reached, it additionally enables the attack to ignore 12 percent of the enemy's DEF. This effect will be removed after the wearer uses an attack.
What Is Jingliu's Backstory in Honkai: Star Rail?
Jingliu's lore begins with her founding of the High-Cloud Quintet, a group of the five greatest warriors in the Xianzhou fleet. In addition to Jingliu, the Quintet includes Jing Yuan, Imbibitor Lunae, Yingxing, and Baiheng.
The end of the High-Cloud Quintet occurred nearly 700 years before the main story of Honkai: Star Rail due to a mysterious event involving Imibitor Lunae, Yingxing, and possibly the demise of Baiheng. While Honkai: Star Rail has not delved into the particulars of this event, we know it has had a lasting effect on the living members of the Quintet as Blade (Yinqxing's new identity) and Dan Heng (the current form of Imbibitor Lunae) have animosity toward each other due to some previous sin. This incident leads Jingliu to capture Yinxing — who gained immortality — and torture him through cycles of rebirth while she teaches him how to master the sword.
After the end of the Quintet, Jingliu succumbs to Mara-sickness and is driven mad to the point where she goes on a rampage and must be stopped by Jing Yuan. After this, she is exiled from the Xianzhou fleet, and her name is removed from the records, including her title of Sword Champion.
During the Trailblazer's adventures on the Xianzhou Luofu, Jingliu returns to the ship after hearing that Blade has been captured. Her mission of revenge and torture seems to still be going after all these years.
Honkai: Star Rail is currently available on PC, iOS, and Android. The PS5 version will launch on October 11.