Honkai: Star Rail Theory Reveals Blade's Tragic Backstory
Never was there a tale of more woe.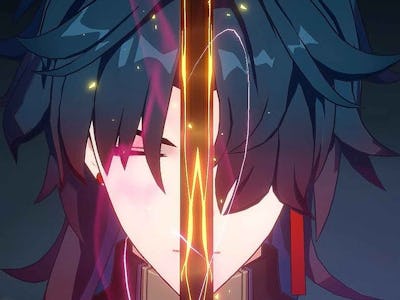 HoYoverse
Honkai: Star Rail's latest five-star, Blade, is more than just an amazing damage dealer and a pretty face — he also has lots of trauma. While Honkai Star Rail is a delight to keep coming back to thanks to its turn-based combat and engrossing world, the characters of the game also often hide deeply fascinating stories, most of which aren't all that happy. Blade's story involves love, betrayal, and reincarnation.
Blade himself is shrouded in mystery, even amongst the shadowy Stellaron Hunters players know the least about him. Though early trailers focusing on Blade first introduced players to the line "Of five people, three must pay a price." Who these people are and what they are paying the price for seems to hold the key to Blade's past.
While Blade is linked to this quote and does say it in trailers, he says this while interacting with Jing Yuang, a general of the Xianzhou Luofo. Blade speaks the line in response to being asked by Jing Yuang if Blade remembers him.
As explained in a Reddit thread, the key to this line lies in what connects Jing Yuang and Blade. As revealed through Jing Yuang's character stories we know that both he and Blade were members of the High-Cloud Quintet, a group of heroes of the Xianzhou. The other members were Dan Feng, Baiheng, and Jingliu (the leader of the group).
The tragedy of the High-Cloud Quintet begins with the demise of Baiheng, who was forced to become a chimera and then had to be dispatched by Jingliu. Blade and Baiheng were lovers, and after her passing, Blade conspires with Dan Feng to find some way to resurrect and save Baiheng. Unbeknownst to Blade and Dan Feng, Dang Fen's dragon form of Imbibitor Lunae was the cause of Baiheng's transformation. Dan Feng does not know this because the transformation has wiped his memories.
The search for immortality and resurrection is a blasphemous crime in Xianzhou, thus Jingliu had to fight against her former friends. Dan Feng is able to escape this by resurrecting and transforming into Dan Heng, who finds a new life on the Astral Express. However, Blade himself became immortal through unknown methods (likely also at the hands of Dan Feng).
He becomes Mara-stricken and loses much of his memory, yet Jingliu continues to hunt him down and defeat him over and over in hopes of instilling one thought in his head: "Of five people, three must pay a price."
Blade says that these words are "carved into my every wound" in his character story.
That leaves the question of Baiheng's resurrection unanswered. Was Dan Feng able to save her somehow? Yes, but not in the way Blade had wanted. In his dragon form, Dan Heng has shown the ability to transform. The theory goes that while he was able to resurrect Baiheng in a way, her form has changed and she is instead reincarnated in the form of Bailu (without memories of her past).
Jing Yuang, who was on the High-Cloud Quintet but never bloodied his hands in this affair, knows that all of this transpired and believes Bailu to be a reincarnated Baiheng. Bailu's character story reveals that Jing Yuan visits her frequently to ask if she has had any dreams, perhaps of a past life.
Furthermore, we know Baiheng was a member of the Astral Express at one point, and when Bailu first visits the Astral Express she begins to have those dreams that Jing Yuan was asking about.
This means that Jingliu is the one who believes that three people from the High-Cloud Quintet need to pay the price — Dan Feng, Blade, and Baiheng now in the form of Bailu. To his credit, Jing Yuan wants to find a peaceful resolution to this conflict, though that might not be likely given all the bad blood between everybody.
Honkai: Star Rail is now available on PC, iOS, and Android.