Hi-Fi Rush reveals a surprising strength of Xbox Game Pass
Let's break the endless hype cycle.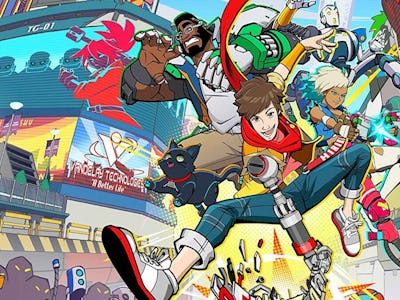 Xbox
It's only January but there are already a handful of great new games to play and many more to look forward to in 2023. But no one was expecting an overnight hit to launch with no warning. Hi-Fi Rush was revealed during Xbox's Developer_Direct showcase, and playable in full on Game Pass just a few hours later. By taking advantage of Xbox's first-party studios and the freedom a subscription service offers, Hi-Fi Rush is a perfect example of the potential of Game Pass to thwart the hype cycle in gaming.
The cost of hype — It's happened to everyone. A game is announced with a nebulous release window or no release date at all. As the months and sometimes years go on interest changes like the tides. It ebbs and flows as trailers show off an interesting feature or graphics that seem underdeveloped. By the time the game actually releases you have lost all that initial excitement.
Hi-Fi Rush does not have this problem.
Live reactions to the Developer_Direct started with excitement at the announcement that The Evil Within and Ghostwire: Tokyo developer Tango Gameworks was working on a new vibrant rhythm action game. This excitement was dialed up to eleven with the announcement that the game was complete and playable that very evening.
The years and months of waiting for a game were shortened to a handful of hours, and that once had come and gone made way for an outpouring of love for this new title players didn't even know existed when they woke up that morning.
This type of release is so uncommon in the gaming world due to the long development of games and the hype cycle of PR campaigns made to build up anticipation for a game, but Xbox has created a perfect storm that allows them to pull off this trick and they should do it more in the future.
Xbox's unique position to fix the problem — Hi-Fi Rush not only had the financial backing and time to develop a game in secret without a hype cycle but it also had a guaranteed platform thanks to Game Pass. While both would be good on their own, the overnight success of the game is only possible with both.
Developer Tango Gameworks is part of Bethesda and is owned by Microsoft, which allows them all the benefits of being a first-party studio. Game Pass, Xbox's "Netflix of games" is a service with so much more to offer than just a massive library for the price of a monthly subscription. Over the past year, Xbox has invested in Game Pass to introduce game previews and provide more support to indie developers. One of the biggest selling points of the service is the day-one release of first-party games on the service.
Even during a difficult year for Microsoft, Xbox Game Pass subscriptions have gone up. This built-in audience has a lower barrier to entry for new games than the typical AAA game price tag, there is nothing to lose by trying a game you already are paying for with your subscription.
This combination of support and platform allowed Hi-Fi Rush to release suddenly and then have players jump in immediately. Initial reactions paint a picture of a game whose art, music, and combat combine to form a game that is just straight-up fun.
Going forward, Xbox should take advantage of its talented studios to make riskier games — without going through the tedious cycle of anticipation.