Hello Kitty Island Adventure Devs Talk Turning the Clock Back to 1978
And on reviving a 45-year-old Sanrio character.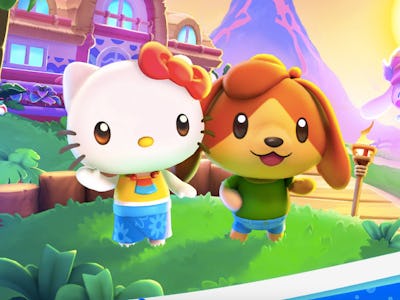 Sanrio
In a year of seemingly never-ending AAA blockbusters and surprise indie darlings, the coziest game of the year is none other than Hello Kitty Island Adventure. Amidst the hustle and bustle of 2023, Hello Kitty has still been able to carve out a niche since its release on July 18 on Apple Arcade, and subsequent substantive updates, with an upcoming one on November 17.
This scope and freedom comes from developer Sunbrink's partnership with Apple, which studio CEO Julian Farrior tells Inverse, has allowed Hello Kitty to revive ancient Sanrio lore, even from the likes of 1978.
The game can be simply pitched as Sanrio Animal Crossing, and while that is partially true, it doesn't do justice to the full scope of the game. In reality, it's more like Sanrio Animal Crossing, Breath of the Wild, and Genshin Impact all rolled into one.
I realize this upon opening the map for the game, which I expect to be roughly the size of an island in Animal Crossing New Horizons, only to be met with a much larger map full of multiple islands. The game involves talking with neighbors (all adorable Sanrio characters), climbing mountains with a stamina gauge, or even diving underneath the oceans (something Genshin Impact introduced in August of this year with version 4.0).
The map continues to expand with new updates, as this is a live service game. But it doesn't have the profit-driven gacha mechanics of other competitors on the market. This is another benefit of being part of Apple Arcade.
"It allows us to do live service without microtransactions," says Farrior.
Apple Arcade might cost a monthly $4.99 subscription fee, but plenty of people spend more than that on mobile games like Genshin Impact and Honkai: Star Rail. (Trust me, I'm people.)
Bringing "Big Challenges" to Hello Kitty Island Adventure
At the center of Hello Kitty Island Adventure are the adorable Sanrio characters that populate it. Yes, Hello Kitty is in the game, as well as other well-known characters like My Melody and Cinnamoroll, but it has some deep cuts too — such as Big Challenges, a forgotten Sanrio character whose strange design stands out against the rest of the cutesy cast.
"He's an alligator that only appeared in one piece of art in 1978," explains Farrior, "so we knew we had to put him in the game."
Sure enough, Big Challenges is in Hello Kitty Island Adventure as a visitor character with a tongue-in-cheek description that reads, "Big Challenges mysteriously disappeared years ago, waiting to be discovered by a wandering adventurer. Not much is known about this elusive gator."
The Apple Advantage
For Sunblink, working within the Apple ecosystem has helped the game thrive and given the studio the chance to deliver the game it wanted.
"We had a small team and an ambitious idea, and working with Apple has let us take risks," says Farrior, "I've never had a partner like that before. In gaming right now, it's an unusual experience."
Farrior echoed interviews Inverse has done with several developers who make games for Apple Arcade and say getting a bigger budget has allowed them to take more creative liberties and worry less about micro-transactions.
Farrior mentions that people are sticking with Apple Arcade after the one-month free trial in order to keep playing the game as it continues to deliver updates to its audience. "As long as we have an audience, we have that freedom to keep adding functionality," he says.
Immediately on the horizon for Hello Kitty Island Adventure is version 1.3. It features a new resident (My Sweet Piano), new visitors, the Give and Gather Celebration, and continues the game's main quest (which currently runs roughly 40 hours).
Looking ahead to 2024, Farrior has ambitious plans to expand the game's multiplayer, which is currently limited to two, and increase the length of the main quest to 80 hours by the end of 2024. That's a lot of time to spend hanging out with Big Challenges.
Hello Kitty Island Adventure is available on Apple Arcade.