Everything You Need to Know About Genshin Impact Version 4.2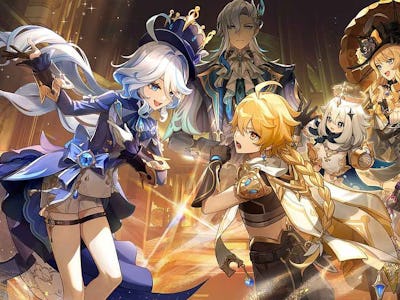 HoYoverse
It seems like only yesterday that Genshin Impact players were first exploring the watery new region of Fontaine and the story of the Hydro Archon, but now the fate of Fontaine is about to be decided. Genshin Impact version 4.2 will mark the end of the Fontaine Archon Quest and, if the trailer is anything to go by, it looks like the story will go out with a bang. Like past updates, it will also include new and returning character banners, world bosses, and a plethora of limited-time events.
Here's everything we know about Genshin Impact version 4.2:
What is the Release Date For Genshin Impact 4.2?
Genshin Impact version 4.2 is set to be released on Wednesday, November 8. This follows the pattern of Genshin Impact and previous Honkai: Star Rail updates, launching roughly every six weeks.
Maintenance for Genshin Impact usually begins at 6 a.m. Chinese Standard Time (UTC +8), which means the 4.2 update should go live on Tuesday, November 7 at 10 p.m. ET in the United States, due to the timezone difference.
Genshin Impact 4.2 Character Banners
Genshin Impact's 4.2 banners will focus on the new playable characters Furina and Charlotte.
The phase 1 banner will run from November 8 through November 28 and will feature Hydro Archon Furina as well as the returning 5-Star Baizhu. Charlotte will also be available on both of these banners during phase 1.
Here is a summary of the available phase 1 characters:
Furina (5-Star, Hydro)
Baizhu (5-Star, Dendro)
Charlotte (4-Star, Cryo)
Phase 2 of version 4.2 will run from November 28th to the end of the 4.2 update (approximately December 19). The phase 2 banners will mark the return of Cyno and Kamisato Ayato.
Here is a summary of both characters:
Cyno (5-Star, Electro)
Kamisato Ayato (5-Star, Hydro)
The wish-exclusive weapon Splendor of Tranquil Waters will also be available during phase one. This is a 5-Star weapon and Furina's signature sword, meaning if you intend to use Furina, you also probably want this weapon.
What Quests Are Coming In Genshin Impact 4.2?
The Genshin Impact Version 4.2 Special Program, which you can watch above, revealed quite a bit about the new content players will be able to jump into.
The biggest piece of content to look forward to in 4.2 is Act V of the Fontaine Archon Questline. This is the final act of the questline. The trailer teases that it will be full of drama, which only seems right for Fontaine's already dramatic story.
Furina faces execution in the trailer, which is something players will need to deal with. The prophesized threat of a flood that will consume Fontaine is also getting closer and closer. With the entire demise of the city now a possibility, it all comes down to the Traveler to stop it. It will be a very Furina-heavy update, as the Hydro Archon is also getting a story quest of her own.
What Events Will Come in Genshin Impact 4.2?
Version 4.2 will mark another expansion for the Fontaine Region of the map, with two new areas — Morte Region and Erinnyes Forest, being added in.
The All-Devouring Narwhal is the new weekly boss, which will have two phases. Players who are already Adventure Rank 40 or above won't need to complete prerequisite quests and can challenge weekly bosses in single-player mode through the Adventurer Handbook as soon as the update goes live.
Players will have four events in 4.2 to enjoy. The first is "Thelxie's Fantastic Adventures," which will have players completing minigames for rewards. There is also the photography event "Graph Adversarial Technology Experiment Log" and the new and improved "Lil' Fungi's Fun-Tastic Fiesta" event. And last but not least, players can take part in the dungeon crawling event "Misty Dungeon: Realm of Water."
Genshin Impact is currently available on PlayStation, PC, iOS, and Android.