Gran Turismo 7 has been confirmed for PS5
A recent patent leaked Gran Turismo 7 prior to its official reveal.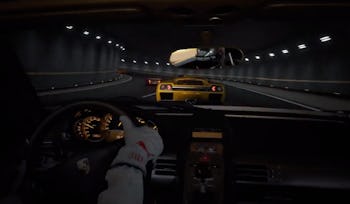 Sony Interactive Entertainment
With the PlayStation 5 reveal event delayed until June 11, the first-party launch titles for Sony's next-generation console are still a mystery to us. In the year since the PS5 was first teased, one game has just become more and more likely: Gran Turismo 7 from Polyphony Digital. A new patent that went largely unnoticed in early June provides strong evidence that Sony plans to revisit the franchise very soon. Then, towards the start of the PS5 reveal event, we got an official confirmation that Gran Turismo 7 was coming soon.
The third game shown off during Sony's PS5 reveal event was Gran Turismo 7, which is a PS5 exclusive currently without a release window. Following a sizzle reel gameplay trailer, we got a look at car customization and then a more extended look at a race from a third-person perspective. It features the polish we've come to expect from the Gran Turismo series and serves as a nice showcase of the PS5's power.
"From classic vehicles and tracks to the reintroduction of the legendary GT Simulation Mode – GT 7 brings together the best features from past installments of the series alongside the future," a description on PlayStation Blog teases. "An even more realistic driving experience awaits thanks to haptic feedback, which brings to life what it's like when the tires hit the road. PS5's immersive 3D audio allows players to sense the position of other cars and drivers around them."
This announcement wasn't much of a surprise though, as a patent and previous developer comments gave its existence away.
The Patent — A thread on gaming forum ResetEra recognized that on June 4, the day Sony's PS5 reveal event was originally going to be held, the publisher trademarked in Argentina both Gran Turismo (the racing game series) and the logo for Polyphony Digital (the Japanese developer behind Gran Turismo). The trademarks were for both physical and digital software, and this renewed interest in filing them suggests that Sony Interactive Entertainment has plans for the series soon.
Gran Turismo is a racing game series from Sony that is developed by Japanese studio Polyphony Digital and has been around since the PS1 era. The series is known for its tight gameplay and pushing console hardware technology to its limits in terms of graphical fidelity.
The PS4 generation was quiet for the series, with only the esports-focused spin-off Gran Turismo Sport released in 2017. A renewed push for ownership of the IP in a region like Argentina suggested that Sony had more plans for the series than just a port of Gran Turismo Sport, and that did end up being the case.
The Official Teases — As far back as 2017, Polyphony Digital has been discussing the next generation of PlayStation hardware. Polyphony Digital CEO Kazunori Yamauchi told Finder.com.au back that "[Gran Turismo Sport is] over-specced for PS4 Pro. So we are building for future versions of the console rather than the one we see today." It didn't stop there either. Yamauchi told GT Planet in 2019 that "obviously we're working on the next Gran Turismo already,"
As recently as February 2020, Yamauchi discussed the technical capabilities he'd like to hit with the next Gran Turismo game: "Rather than a spatial resolution that you're talking about, I'm more interested in the advancements we can make in terms of the time resolution," he said to GT Planet. "In terms of frames per second, rather than staying at 60 fps, I'm more interested in raising it to 120 fps or even 240 fps. I think that's what's going to be changing the experience from here on forward."
In addition to the raw power Gran Turismo 7 could take advantage of on PS5, it's a good fit for Sony's new DualSense controller. Specifically, the controller's haptic feedback could make the vibrations of racing more immersive, and a Wired report from 2019 showed how haptic feedback changed the experience of Gran Turismo Sport on PS5.
"Driving on the border between the track and the dirt, I could feel both surfaces. Doing the same thing on the same track using a DualShock 4 on a PS4, that sensation disappeared entirely," the report says. While this was allegedly just a PS5 port of Gran Turismo Sport, it wouldn't be surprising if this demo was an early build or test for the technology that is being used in Gran Turismo 7.
The Inverse Analysis — A full-fledged Gran Turismo sequel will draw more eyes and attention from series fans. The new Argentinian patents and Yamauchi's comments were, in fact, confirmation that Gran Turismo 7 was real.
Gran Turismo 7 is in development for PS5.
This article was originally published on