PlayStation 5 Will Dazzle With 'Over-Specced' 'Gran Turismo Sport'
Polyphony Digital has planned for the future.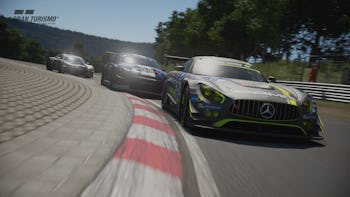 Gran Turismo
The upcoming PlayStation 4 game Gran Turismo Sport may look impressive, but it'll look even better in the future. In an interview published Tuesday, the developer behind the racing simulator claimed that the game has been designed with a staggering amount of detail — so much so that the team is prepared for a future console to show the cars and tracks in their full glory. A future version of Gran Turismo Sport for the PlayStation 5 could reveal details currently obscured by present hardware.
"It takes six months to create a single car," Kazunori Yamauchi, CEO of Polyphony, told Finder.com.au. "It's over-specced for PS4 Pro. So we are building for future versions of the console rather than the one we see today."
When asked to clarify, Yamauchi responded: "I think it would be no problem to run it at 8K even."
The PS4 Pro, which promises to run supported PS4 games at a 4K resolution, only hit the shelves last year. For $399, players get a console with 4.2 teraflops of graphics performance, where the standard PS4 is capable of just 1.84 teraflops. Gamers playing on a PS4 Pro with a high-resolution 4K screen will see far more pixels than those playing on a 1080p display.
But Gran Turismo Sport's highly detailed cars may make the hardware seem outdated already. At E3 2017 in June, the developer claimed the game will have over 177 cars, along with 27 tracks spread out over 19 locations. On top of this, the game is the first to support virtual reality. On a future console, these features may look smoother and crisper than on present-day consoles.
It sounds like a lot of content, but Gran Turismo 6, which was released in 2013 for the PlayStation 3, contained a staggering 1,197 cars. If those 177 cars are designed with future consoles in mind, though, it may be a necessary price to pay for future versions of Gran Turismo.
Polyphony has laid the groundwork for a new start, but when the PlayStation 5 itself will launch is up for debate. Macquarie Capital Securities analyst Damian Thong claimed in April that the console will launch in 2018, while Wedbush Securities analyst Michael Pachter said last month that 2019 or 2020 is more likely. A full-resolution Gran Turismo Sport may take some time.
The game is set to launch on October 17 in North America, and it kickstarts a whole new era for the established franchise. Unlike the first six Gran Turismo games, the Fédération Internationale de l'Automobile plans to recognize events in the game. That means players can earn a real motorsports license just through playing the game, meaning that (assuming you also have a driver's license) you can participate in real-world events.
"Thinking about it now, yeah, we could have called it Gran Turismo 7," Yamauchi said in an interview last year. "But it's got so many features, we wanted it to be different."
Watch the trailer for Gran Turismo Sport here: