God of War: Ragnarok update proves TLOU 2 changed Sony forever
Accessibility is finally getting the attention it deserves.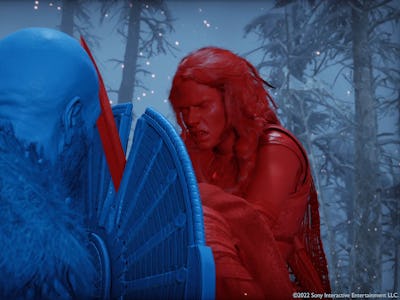 Santa Monica Studios
God of War: Ragnarok is back in the news, not with a release date, but with an even more important announcement. In a PlayStation Blog post published Thursday, Santa Monica Studio's Lead UX Designer Mila Pavlin shared an update on the game's accessibility features. According to Pavlin, God of War: Ragnarok will have more than 60 accessibility options to customize its audio, video, and controls.
That's already a big deal.
God of War: Ragnarok is the most anticipated marquee title for the PlayStation 5 yet, and fans have been clamoring for more details since it was last showcased in 2021. Unless it jumps on the hottest new gaming trend — getting delayed to 2023 — God of War: Ragnarok is still due out this year and players are hungry for solid details. Centering the game's first news in months on accessibility sends a message that these features are just as important to the game as its combat, graphics, or anything else that's usually highlighted during the pre-release hype cycle. It's a big step for Sony, but given other recent moves toward accessibility it's made, it's not a surprising one.
In 2020, The Last of Us Part II was in a similar position to where God of War: Ragnarok is now. A long-awaited sequel to a beloved game from a previous generation, The Last of Us Part II was the PS4's flagship game, one its developer couldn't afford to mess up. It launched with an unprecedented suite of accessibility options, which became a major talking point around release and led to TLOU 2 being labeled the most accessible game ever.
Accessibility is unfortunately seen as an afterthought for a lot of developers, a niche concern that takes a backseat to more marketable back-of-the-box features. Applying the best accessibility practices it could to TLOU 2, developer Naughty Dog set an example for the industry. With a studio as big as Naughty Dog or Santa Monica Studios, there's simply no excuse for not putting the resources at your disposal toward ensuring people can play your game comfortably. That means more than slapping on subtitles and calling it a day; It means working to find and fix unexpected points of friction in a game to accommodate a range of disabilities.
Sony isn't the only one working to make gaming more accessible. Indie developers have had novel takes on accessibility for years, with games like Celeste, Chicory, and Ikenfell tuning accessibility to their game's specific quirks with content warnings, difficulty modifications, and visibility options.
Microsoft has stepped up its accessibility efforts in recent years, too. Halo: Infinite was noted for its robust accessibility options, and the Xbox Series X has some of the best platform-level accessibility in the industry with specific tags in its storefront and system-wide controller remapping. The Xbox Adaptive Controller is also an impressive (but pricey) piece of tech that disabled players can tweak to meet their individual needs. Even the standard Series X controller was designed with accessibility in mind, showing Microsoft's commitment to the hardware side.
Those are all efforts to be applauded, but the God of War: Ragnarok accessibility reveal feels different. Part of that is just about PlayStation as a platform. Sony has long positioned its first-party exclusives as cultural events around which the entire gaming world revolves. In turn, each of its games is analyzed, discussed, and inevitably emulated. The accessibility options in God of War: Ragnarok were bound to be an example for future developers.
But Sony is now showing there's another part of accessibility that's been overlooked. It's great when any developer makes its games more accessible, but how we talk about those efforts is also important. Accessibility isn't about slapping on quick fixes to make a game a little less harsh on people with commonly discussed disabilities. It's about designing a game from the ground up to make every player welcome, then giving those features the same attention we give graphics and gameplay.
When Sony puts accessibility at the forefront of the messaging for what's sure to be its biggest game in years, it's doing more than just trying to boost goodwill and sell more copies (though of course that's part of it). It's also sending a signal to the rest of the gaming industry that accessibility is worth pursuing and worth publicizing.
Centering accessibility in blockbuster games like TLOU 2 and God of War: Ragnarok makes it clear: Gaming is for everyone. If your game isn't, it's time to change.