Everything you need to know about Genshin Impact Version 2.2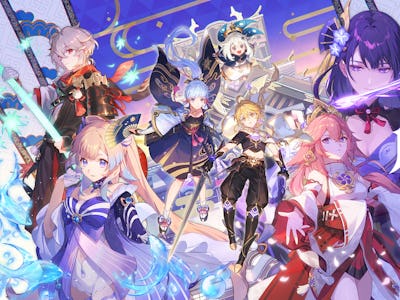 Here we are again. Genshin Impact is getting an update. Although we just received Genshin Impact Version 2.1 that can't stop us from getting excited about what's in the pipeline. Dataminers have already found a sizable sum of information available for the next update, including a few potential reruns and a new island. If you're on PC or Mobile, you finally obtain the free five-star character, Aloy.
Here's everything we know about Genshin Impact Version 2.2.
When is the Genshin Impact Version 2.2 release date?
Developer miHoYo has yet to confirm a release date for Genshin Impact Version 2.2, but considering that the game updates every 42 days, we can estimate a date.
Genshin Impact Version 2.2 should be available on October 12, 2021.
Is there a Genshin Impact Version 2.2 trailer?
Whoops! There isn't a trailer for Version 2.2 yet. Sadly, the update has yet to be properly announced, so we don't have a trailer for the whole update. We do have a trailer for Aloy, a crossover character that will be free for non-PlayStation players in Version 2.2. You can watch that below.
What are the Genshin Impact Version 2.2 banners?
From what we can tell via datamines, Version 2.2 will be something we can kindly label "re-run city." There will be no new five-star characters available.
The one new character in Version 2.2 will be the four-star Pyro Polearm user Thoma. He's expected to arrive in the second banner.
We don't currently know the exact characters that will receive reruns. the leaker UBatcha has suggested that we can expect re-runs for Hu Tao, Ganyu, and Albedo this year.
UBatcha expects that the five-star Cryo Bow character, Ganyu will be available first.
Others are expecting something different from 2.2. Due to datamined bonuses in the Spiral Abyss and the pictures used to display those bonuses, some are expecting Hu Tao and Childe to be rerun in 2.2.
Any reruns have yet to be confirmed and won't be known until Version 2.2 is officially available. Unlike with new characters, it's difficult to tell who will be on a re-run banner.
Will there be more Inazuma in Genshin Impact Version 2.2?
Yes, according to datamines, Tsurumi Island will be added in Version 2.2.
Since Inazuma's story concluded in Version 2.1, perhaps this area will house the region's epilogue?
In lore, Tsurumi Island is described as:
"A mysterious island enshrouded in fog. No one has set foot here in many long years."
Sounds like the Traveller and Paimon will break that streak. Perhaps will get another encounter with Dainsleif as we have in previous region epilogues? Tsurumi Island will almost certainly include additional Fishing Spots.
What are the Genshin Impact Version 2.2 Events?
There are currently only a handful of events know to arrive in Genshin Impact Version 2.2 via datamines.
1. Dreams of Bloom – an event focusing on growing flowers in your Serenitea Pot and sharing them with your friends. You and your friends will receive different flower types.
2. Labyrinth Warriors – a Genshin Impact take on rogue-like dungeon crawlers. The event focuses on Xinyan, Tartaglia, and Kujou Sara. Completion will earn you a free Xinyan.
3. To the World's Sounds Listening – another rhythm game event similar to the one during the Windblume Festival. Kazhua gifts you an instrument that looks like a Biwa or Shamisen. You'll have to play it with other characters at various locations. According to the leaker Genshin Intel, the songs and performing partners are currently expected to be:
Old Friend's Departure (Zhongli)
Moon with the Clouds (Ningguang) -
Long Journey (Keqing)
Aloft Alone (Xiao)
Ponder in Sangonomiya (Kokomi)
Forest Watch (Ayaka)
The Next Destination (Raiden Shogun)
Does Genshin Impact Version 2.2 have new Hangout Events?
Hangout Events are juicy 1-on-1 experiences with the four-star characters in Genshin Impact. Version 2.2 will allegedly add hangout events for Sayu and Thoma.
What other changes are in Genshin Impact Version 2.2?
Genshin Impact often includes a slew of tweaks in every update that make the game easier to enjoy or enhance certain elements. Version 2.2 will supposedly continue this trend. It's currently expected that Version 2.2 will add a new graphic setting called "Anisotropic Filtering." This will increase the environment's sharpness.
There will also be new Inazuma Furnishing Sets for your teapot and an Inazuma-themed realm.
Players might also have an increased inventory for Artifacts, going from 1000 spots to 1500.
Genshin Impact Version 2.2 is expected to be available on October 12, 2021.
This article was originally published on