Everything we know about Genshin Impact 1.2 and the 2021 roadmap
The universe is expanding faster than expected.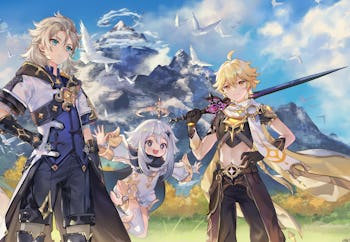 Genshin Impact developer miHoYo viciously continues to update the game. Version 1.2, the second major update for Genshin Impact will launch in just a few short weeks.
miHoYo recently detailed what the update brings via a 50-minute presentation. Additions include a snowy new region, additional characters, and a whole lot more.
Here's everything we know about Genshin Impact version 1.2 and what's to come in 2021.
What were your favorite games and gaming moments of 2020? Take our poll!
When is the Genshin Impact 1.2 update release date?
Genshin Impact version 1.2 will launch on December 23, 2020.
Is there a Genshin Impact version 1.2 trailer?
Yes, you can watch the trailer below.
The showcases the bountiful additions we'll see in Genshin Impact version 1.2. This begins with the new region, Dragonspine, which will include new foes like an Ice Cicrin mage and a new Ruin enemy variant. We also get our first look at the new playable characters Albedo and Ganyu.
Sucrose will seemingly have a larger role in the story than before, this is likely due to her position as Albedo's apprentice.
The trailer concludes with previews for upcoming events. The Chalk Prince and the Dragon will debut with update 1.2. It will feature a legendary cursed sword, which can be collected by the player. Similar to Unreconciled Stars, The Chalk Prince and the Dragon will be four phases long.
Following that, there will be an event called Lost Riches, where players use a Seelie to find untold treasures in Teyvat. Marvelous Merchandise will return. The last event will be Hypostatic Symphony, pitting you against Hypostasises of all elements.
When are the Genshin Impact version 1.3 and 1.4 release dates?
From what we know, miHoYo plans to release major updates for Genshin Impact every six weeks. They've already announced via a blog post that update 1.3 will debut in February 2021. Update 1.3 promises to add the Lantern Rite Festival event, taking place in the Liyue region.
Assuming that proper math is in play, update 1.4 will launch in mid-March 2021.
Who are the new Genshin Impact version 1.2 characters?
Genshin Impact version 1.2 will add two new characters. First is Albedo, a young alchemist in Mondstadt, wielding a sword and the power of Geo. He was previously mentioned as a friend to Klee and Sucrose's master. Albedo is voiced by Khoi Dao in English and Kenji Nojima in Japanese. Dao is known for playing Rei Kiriyama in March Comes in Like a Lion. Meanwhile, Nojima is known for portraying anime hotties like Tuxedo Mask in Sailor Moon Crystal and Eiji Okumura in Banana Fish.
The second new character is Ganyu, a half-human, half-Adeptus Cyro archer who serves as an emissary and secretary for the Liyue Qixing. She previously appeared briefly during the Liyue storyline. Ganyu will be voiced by Jennifer Losi in English and Reina Ueda in Japanese. You might know Losi from her role on Sword Art Online as Rinko Kojiro. Ueda is perhaps best known for her portrayals of Kanao in Demon Slayer and Akane Shinjou in SSSS. Gridman.
Albedo will be available when version 1.2 drops on December 23. You'll have to wait a bit longer to acquire Ganyu. She won't be available until mid-January 2021.
Will Genshin Impact version 1.2 add new regions?
While Inazuma is the next nation set to progress the main story, version 1.2 will add the snowy sierra of Dragonspine. The area is between Mondstadt and Liyue.
Players were previously able to explore Dragonspine in the second closed beta test by using a glitch, which has since been patched out.
Will Genshin Impact version 1.2 add more Story Quests?
Yes, but presumably, it won't add more Archon Quests, which are used to advance the main story.
Albedo and Ganyu will both receive character questlines, similar to what Zhongli and Childe had in update 1.1.
It seems that the region could give provide background on the Abyss Order. We can spot a red crystal with a dark hue. This could potentially be the same type of crystal that was used to corrupt the dragon, Dvalin, during Genshin Impact's prologue. We could perhaps learn of the crystal's origins in this next update and how it can be used to control creatures.
Or, given the release date, miHoYo could use this snowy expanse to teach Paimon the meaning of Christmas. Anything could happen.
What other changes will be added in Genshin Impact version 1.2?
There will be numerous quality of life changes added to Genshin Impact. You can now nickname your friends, and Domain rewards will automatically be given to you, rather than having to be collected. When you hit certain benchmarks in ascending your character, you'll be rewarded with free Acqaint Fate.
There will also be pet Seelies available, allowing you to finally have a friend that's not Paimon.
Read also: Genshin Impact leak reveals 8 new characters coming after 1.1 update
This article was originally published on