Nintendo of America President On the Future of the Switch, Super Mario Bros. Wonder, and More
Plus, the classic Nintendo game he'd want to bring back.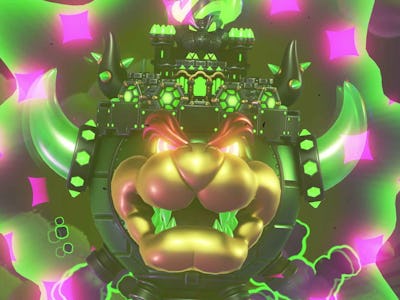 Nintendo
Video game consoles come and go, but the Nintendo Switch is forever. At least, that's how it sometimes seems. Six years after its launch, the beloved handheld hybrid is still going strong and on track to sell 15 million devices in 2023. But for Nintendo of America president Doug Bowser, the reason behind the Switch's lasting power is simple: It's the games.
"It's still a very unique gaming platform," Bowser tells Inverse, "And then on top of that is the games, the steady drumbeat of content, whether it's our own first-party games or whether it's games that are brought to us by our publishing partners, big and small, quite honestly. It's allowed us to keep players engaged."
But even with the continued success of the console, Nintendo fans are abuzz with rumors and reports that a successor to the Switch may be around the corner. Bowser won't comment on the rumors swirling around a Switch 2, but he does point to the Nintendo Account platform as a long-term strategy for whenever the company does decide to launch a new console.
"In the past, every device we transitioned to had a whole new account system," he hints. "Nintendo Account will allow us to communicate with our players if and when we make a transition to a new platform, to help ease that process or transition.
Just ahead of the release of yet another excellent Switch game with Super Mario Bros. Wonder, Bowser sat down with Inverse to talk about everything from the new Mario game to why Nintendo employees don't have a union.
This interview has been edited for brevity and clarity.
Producer Takashi Tezuka recently said Super Mario Bros. Wonder wasn't developed with a deadline in mind until much later in development. In an industry famous for crunch, how do you think the development team's approach affected the final product of Super Mario Bros. Wonder?
I'm always careful not to comment on the part of the developers, but in general, what Mr. Tezuka noted was that very early on in the development cycle, he really did want to give the team the freedom to explore a variety of ideas. The result was a lot of unique and creative ideas they could think about without the pressure of a deadline or the pressure of, 'How do I actually bring this to life?'
One thing with Nintendo development is we don't pressure our teams to deliver within a certain window. If they need more time, they'll take more time. And the reason for that is our players have an expectation of the quality that our games will bring. We want to make sure we respect that and deliver those wow moments.
Super Mario Bros. Wonder is the first 2D platformer in the series in over a decade, receiving widespread acclaim. This return to roots approach has also worked with Metroid Dread, is this something that Nintendo would consider doing with franchises such as The Legend of Zelda?
I think what's important is that the development teams have that opportunity to really understand what they want to build and the type of game they want to create. Whether that's a reinvention of a classic game or going in a whole new direction, we really do give our dev teams a lot of leeway to decide where they want to go with future game development.
As Nintendo prepares to open a museum, how does the company plan to prioritize the preservation of its history and games for global audiences?
We really do consider ourselves to be more of an entertainment company than just a dedicated video game company. Video games are at the nucleus of our overall business model, but if you look at this year alone with the launch of Super Nintendo World at Universal Studios in Hollywood, the launch of The Super Mario Bros. Movie and the success from that, a series of successful game launches, and then Nintendo Live held in Seattle over Labor Day weekend. All of these events, including the museum, allow us to engage with our players in several ways, both within the video game space but also outside of that.
That allows us to continue to build affinity for Nintendo, for our characters, and for our worlds — and hopefully a long-term relationship. The museum is one piece of that. It does allow us to ensure that people understand the history of Nintendo, before and after video games were introduced, and through that process, absolutely preserve some of the content.
Today, we give fans a way to play our games through our Nintendo Switch Online subscription and the Expansion Pack. So that's a way we're allowing our fans to engage our content they may remember from way back when they started playing video games.
Leaks from the Federal Trade Commission (FTC) v Microsoft trial revealed Microsoft had discussions about acquiring Nintendo. I'm not really asking you about why that would or wouldn't happen, but more broadly what you think about the growing trend of acquisitions and what its effect on the industry has been and will continue to be going forward.
We have a great relationship with Microsoft. We consider them to be partners in many, many ways, and you only have to look at Nintendo Switch to see that partnership. Obviously, Minecraft is on Nintendo Switch, and we brought Banjo Kazooie to Super Smash Bros. Ultimate. So, we're looking forward to that partnership continuing.
As far as consolidation in the industry goes, I've been a part of this industry for 16-plus years now. One thing that's been constant is the acquisitions of studios. But the other constant is the fact that new studios are popping up every single year. Incredibly creative studios are making content, from indie-sized to AAA-sized games. So as consolidation happens, on an equal basis, we're seeing these new studios, which really just speaks to the dynamic nature of the industry overall. In the end, that bodes well for the player.
The Nintendo Switch has had a very long lifespan for a console. Other consoles on the market continue to push for graphical fidelity, though as technology improves that pursuit has diminishing returns. Do you think Nintendo's method of having more distinctive art styles is a better approach as enhanced graphics become less and less possible?
I play on all the platforms, and I enjoy the content that everyone is creating. We've always said at Nintendo: What's most important to us is not so much what's inside the machine or the device, but what happens on the screen when you put your hands on the controllers and you start engaging in the gameplay experience. Does it draw you in? Is it immersive? To that point, you can use a variety of different art styles, some with higher fidelity, some with perhaps a different, more cartoonish-type style.
There's a host of different styles overall on the platform, and I do think that's what separates us quite a bit, outside of the obvious visual differentiation with the Nintendo Switch's form factor, and helped us to lengthen that longevity. The one thing I like to say is: Consumers are the ones who are voting right now, and we're scheduled to sell about 15 million units this year alone. It's that diversity of content that's really bringing players in and keeping them on the platform.
There have been reports that Nintendo showed off a successor to the Switch behind closed doors during Gamescom. As we have discussed, the Switch has had a long lifespan and a huge install base. How — when you consider the idea of a successor to the Switch — do you think about helping those people who are on the console transfer to the next platform while reassuring them that the content and investment in the Switch will somehow transfer to its successor?
Well, first I can't comment — or I won't comment, I should say — on the rumors that are out there. But one thing we've done with the Switch to help with that communication and transition is the formation of the Nintendo Account. In the past, every device we transitioned to had a whole new account system. Creating the Nintendo Account will allow us to communicate with our players if and when we make a transition to a new platform, to help ease that process or transition.
Our goal is to minimize the dip you typically see in the last year of one cycle and the beginning of another. I can't speak to the possible features of a new platform, but the Nintendo Account is a strong basis for having that communication as we make the transition.
Unionization efforts are gaining steam across the games industry, what role do you think a union could play at Nintendo in the future?
We don't currently have unions at Nintendo of America, and part of that is driven by the employee feedback we see, which is a high degree of job satisfaction and engagement overall. You only have to look at our retention numbers, which are very, very high within the industry, and our obviously low turnover rate as a result. Our focus has always been on creating a culture that's inclusive, has a work-life balance, and is focused on our singular mission of bringing smiles to faces.
I think we're on the right path in terms of ensuring we've got a work environment and culture that allows people to be productive, to have balance in their lives, and to grow within the company. Everyone has the right to form a union, and certainly in the future, wherever it takes us, we'll respect that. But we're very much focused right now on how to create the best work culture and environment we possibly can.
We're always listening to our workers and we want to make sure we have both formal and informal ways of getting worker feedback and understanding the needs of our employees and where we can improve. And we always act on that feedback. And, as I said earlier, there is always a right to form unions and we respect that.
Last question: Is there a Nintendo property that hasn't come back in the past few years that you would love to see make a comeback?
I can't think of a specific franchise that I want to see make a comeback. The things I love to play are there. Maybe Bowser's Inside Story. Giving Bowser a little love would always be nice.
Super Mario Bros. Wonder is available exclusively for Nintendo Switch starting October 20.