Everything We Know About the Nintendo Switch 2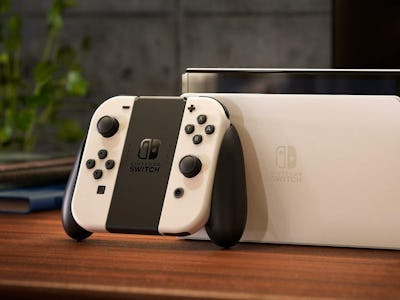 Nintendo
Given the runaway success of the Nintendo Switch — now the third bestselling system of all time — it's inevitable that we'll see some sort of enhanced iteration in the future.
Nintendo hasn't officially announced plans for a new console yet, but since the Switch came out all the way back in 2017, it's likely a new system is in the works. Here's what we know about the rumored Nintendo Switch 2 system.
Is Nintendo Switch 2 in Development?
The Nintendo Switch 2 has yet to be officially announced, but numerous reports indicate that it's in the works. A recent report from gaming website VGC notes that the new system is deep into its development cycle, though information is still scarce. It's also still unclear what the system will be called.
Nintendo President Shuntaro Furukawa didn't comment on the new console when asked during an earnings call this year. "I cannot say anything specific about a next-generation platform at this time," he told investors. However, he hinted at the possibility.
"We are always working on various projects aimed at the future by asking ourselves what kind of fun proposal we can make, which can possibly provide new and unique entertainment."
After Nintendo announced the OLED model, Inverse reached out to analysts about the Nintendo Switch 2. "I believe we will see a stronger upgrade than this one along the line before Nintendo releases an all-new console," Serkan Toto of Kantan Games said. This statement did come with the caveat that the upgraded console was "several years" away at the time.
Nintendo Switch 2 Release Window
The recent VGC report claims Nintendo is targeting a 2024 release window, likely during the second half of the year. If true, this would be a change of pace for Nintendo, as the original Switch launched in March.
With that in mind, it's likely Nintendo won't make any announcements until next year.
Nintendo Switch 2 Leaks and Rumors
Insider Nikkei Asia corroborates the 2024 release window, noting that the system will likely be ready to launch next year.
"Development seems to be progressing well," a source told Nikkei. "But a product launch won't happen before next spring at the earliest." If the source is right, that means Spring 2024 is the earliest that the Switch 2 could come out.
Another leak came from Redditor "Factory Uncle," who apparently worked at a Nintendo production line. Factory Uncle said that a "next gen Switch" was in the works, before they were permabanned from Reddit by Nintendo, with the thread deleted as well. For context, this is the same person who leaked the Splatoon 3 Switch OLED system. The fact that they were permabanned could lend credence to the validity of this claim.
Earlier this summer, Twitter user Chito Gaming shared a set of seemingly dubious images of a supposed "Switch 2" console, noting that Nintendo might announce the system this year. While it's likely the images are fake, it's clear the community is eager for Nintendo's next system.
Nintendo Switch 2 Cost
Nintendo Switch 2 has yet to be announced, but experts like Matthew Kanterman of Bloomberg Intelligence and Serkan Toto have landed on some range of price. On multiple occasions, these experts have suggested that the Nintendo Switch Pro would cost at least $100 more than the current model. That would place it at $400.
Seeing as the slightly upgraded Nintendo Switch OLED model costs $50 more than the base Nintendo Switch, these assumptions were likely not far from the mark. Sources apparently told VGC that the Switch 2 will include an LCD screen instead of OLED in an effort to reduce cost. It's tough to imagine a Switch successor launching for more than $400.
Potential Nintendo Switch 2 Features
At this point, it's impossible to say for sure what sorts of features the Switch 2 will have, but there are a few safe bets we can assume. For starters, the new Switch will almost certainly boast more power than the Switch OLED, with the capability to play modern titles with higher fidelity.
It's unclear to what extent, but perhaps 4K isn't an outlandish expectation. Currently, the Switch struggles to run many third-party AAA games, so performance will likely be a priority with the Switch 2.
According to VGC, the Switch 2 will continue using cartridges, as well as digital games. It's possible the new system will be backward compatible with the original Switch, especially since Nintendo plans on allowing users to carry over their accounts.
"As for the transition from Nintendo Switch to the next generation machine, we want to do as much as possible in order to smoothly transition our customers, while utilizing the Nintendo Account," Nintendo President Shuntaro Furukawa said during a shareholder Q&A earlier this year.
The new system will supposedly be usable in portable mode, though it's unclear if it will be a console hybrid like the Switch. Ultimately, we'll have to wait and see what Nintendo has up its sleeve. It can't be a secret forever!
This article was originally published on