Diablo Immortal can't save Blizzard
It's the first new game in six years from the embattled studio.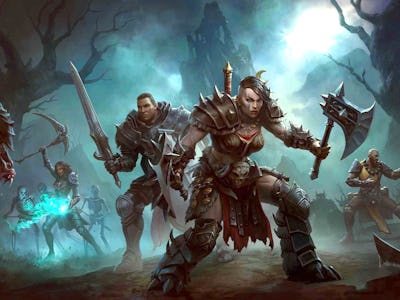 Diablo Immortal, the latest entry in Blizzard's dungeon-crawling action RPG franchise, is out now on iOS and Android mobile devices. The game was originally slated to be released on PC and mobile on June 2, but an early release launched a day early by surprise. The game is the first new entry in the Diablo franchise since Diablo 3 in 2012. Most shockingly, Immortal marks the end of the longest period between new releases for Blizzard at a whopping 2199 days. But in those couple thousand days, Blizzard has become steeped in scandal. Is Immortal enough to help turn the tide?
Probably not.
What has Blizzard been up to? — We need to go back to the release of Overwatch to find the most recent new game from Blizzard. That's a 6-year-old game with a sequel in beta testing right now. Before this 6-year drought, the longest Blizzard had ever gone without releasing a new game was the period between the company's MMO World of Warcraft and StarCraft II — which were released 2072 days apart. It's uncommon for a large publisher like Blizzard to go half a decade without a new game release, even if the larger Activision Blizzard keeps pumping out Call of Duty games at a breakneck pace.
The Blizzard side of things, however, hasn't been sitting on its laurels. In those years, Blizzard has been developing multiple projects. As previously mentioned, Overwatch 2 is actively in development with an ongoing beta. The most notable release during the long draught was Diablo II: Resurrected, a remastered version of the 2000 title.
Of note is that this drought also doesn't consider the massive amount of work that the team at Blizzard has put into World of Warcraft during those 6 years. In the time since Overwatch was first released, WoW has released three expansions: Legion, Battle for Azeroth, and Shadowlands. Not to mention the upcoming Dragonflight expansion.
Is Immortal enough to help Blizzard? — The most notable thing Activision Blizzard has been up to in this prolonged release hiatus has to be the company's general lack of ability to treat employees well. Roll a dice covered in terrible things a company might do, and Blizzard has most likely done it. Union busting? Yep! Sexual harassment allegations? Oh yes! Protecting its out-of-touch leadership? You bet! Employees of the company staged walkouts in November and December 2021 to protest these issues and ask that company leaders like CEO Bobby Kotick be held accountable for their role in the company's "frat-boy culture."
The lengthy list of issues the company has been facing eventually led to the announcement that Microsoft would be purchasing Activision Blizzard for a whopping $68.7 billion. While this deal is not final yet, it would give leadership at the company an easy out from the controversy in the form of a very hefty golden parachute.
As it stands, rather than getting fired, Kotich could see a $500 million windfall following the deal.
Diablo Immortal is the first new game from the company in the post-acquisition world. Initially announced only for mobile, and without any indication at the time of Diablo IV, fans' reactions to the game were ... not enthusiastic. Early impressions seem generally positive. However, the bigger question will be whether there are enough fans of Blizzard left who are willing to look past the company's current scandals and give Diablo Immortal a shot.
Diablo may be immortal, but is Blizzard?