Blade Runner 2033 and 5 More Exciting Reveals from the Annapurna Showcase
The indie publisher sets its sights on development.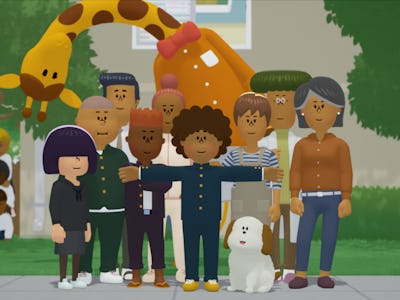 Annapurna Interactive
The summer season of game announcements never ends, and everybody and their mother has their own showcase this year. The latest such showcase comes from indie publisher Annapurna Interactive, who held the 2023 Annapurna Interactive Showcase on June 29.
The presentation showed off a number of interesting updates and reveals from studios around the world. We chose the six biggest announcements you need to know from the Annapurna Interactive Showcase, check it out.
6. Thirsty Suitors gets a release date
One of 2023's most interesting indie games, Thirsty Suitors, finally has a release date. During the showcase it was announced Thirsty Suitors will release on November 2 for all platforms. The game is an action-adventure game that combines dating sims, skateboarding, cooking, and fighting all into one stylish package.
5. Stray comes to Xbox
The best indie game of 2022, and perhaps the best cat game ever made, is no longer just for PC and PlayStation owners. On August 10, Stray will release for Xbox consoles. Get ready to hit that meow button constantly.
4. Ghost Bike
The name Ghost Bike does not sell what the game actually is, because for me I immediately thought of something akin to Marvel's Ghost Rider. Instead, Ghost Bike looks to be a chill biking game about peddling your way around a gorgeously rendered world filled with rustic rolling hills, seaside towns, and quant mountain villages. Yes, your bike does seem to be possessed(?) by a ghost, but the vibes here are very chill rather than spooky. It is coming to Xbox consoles, Game Pass, PlayStation, and PC.
3. Lushfoil Photography Sim
From developer Matt Newell, Lushfoil Photography Sim looks to be the end-all-be-all of photography games. Across a number of photorealistic open environments spanning mountains, forests, and beaches (to name a few) players will be able to roam around in search of the perfect picture. The game gives players the wide breadth of control that you would expect from a real-world high-end DSLR, with the ability to discover other cameras (and even a drone) to take photos with. You can wishlist the game now on Steam.
2. to a T
Keita Takahashi, the creator of Katamari Damacy, and his studio Uvula revealed in full a new game titled to a T. The reveal trailer did not show gameplay, but a catchy song did explain the premise of the game.
As a boy who is perpetually stuck in a T-pose position, you must navigate the trials and tribulations of normal life. There also appears to be a giraffe wearing a bow tie, so this game has it all. The game is coming to Xbox consoles, Game Pass, and PC.
1. Blade Runner 2033: Labyrinth
Annapurna Interactive is branching out from just publishing amazing games, now the company is developing its own titles. The first game from Annapurna Interactive's internal development team is Blade Runner 2033: Labyrinth, a new entry in the iconic cyberpunk franchise of films, comics, and video games. It is directed by What Remains of Edith Finch and Solar Ash alum Chelsea Hash.
The game will tell an original story following a new protagonist. Details on the gameplay of Blade Runner 2033: Labyrinth were not shown, so we don't know exactly how it will play but it's a good bet that it will lean into the detective vibes of the original film.