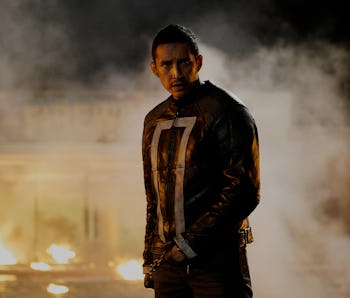 Entertainment
'Ghost Rider' star was ready "Mind, body, and soul" — until it was canceled
"I kept being told we were gonna go." 'Terminator: Dark Fate' star Gabriel Luna talks about the early cancellation of his Marvel series, 'Ghost Rider.'
ABC
No one was more disappointed in the premature cancellation of Marvel's Ghost Rider series on Hulu than its star, Gabriel Luna. In an interview, Luna tells Inverse he was "all ready" for the series until forces beyond his control canceled the project abruptly.
"I kept being told we were gonna go," says Luna. Now promoting his new movie, Terminator: Dark Fate, the actor still doesn't know why Hulu's planned Ghostrider was canceled. "Other things were at play that I'm not privy to. But we were fully ready, or at least I was."
"I love that character," he adds. "I was ready. Mind, body, and soul."
Earlier this year in May, it was reported that Marvel Television was working to develop two separate shows for Hulu, both themed around demonic characters: Helstorm and Ghost Rider. Helstrom, about the son of a serial killer named Daimon Helstrom, is still green lit and even revealed its cast in October. Tom Austen of The Royals will lead.
But in September, Ghost Rider was killed by Hulu; Deadline reported a "creative impasse" between the show's creative team and Hulu.
Ghost Rider, which was to be executive produced by The Punisher showrunner Stephen Lightfoot, was to take place within the Marvel Cinematic Universe though remain separate from other Marvel shows. The series would have starred Luna back in the role of Robbie Reyes, an L.A. street racer imbued with the Spirit of Vengeance to become the Ghost Rider. The character was created by writer Felipe Smith and Tradd Moore, in All-New Ghost Rider #1 in 2014.
Luna first played Robbie/Ghost Rider for a stretch of episodes in the fourth season of the ABC series, Agents of S.H.I.E.L.D., where his performance won acclaim from fans.
The timing of Ghost Rider's cancelation is also curious. In late October, Marvel TV head Jeph Loeb stepped down in a move that was planned "well before" the October 15 ascension of Marvel Studios' Kevin Feige to chief creative officer of all of Marvel, including television and comics publishing. Ghost Rider, as a product of Marvel Television, was to be supervised by Loeb. It is unknown exactly how much Loeb's exit, and Disney's greater efforts into Disney+, played a factor into the decision to cancel Ghost Rider in its pre-production phase.
"I owe a lot to my experiences doing Matador and Ghost Rider," says Luna in a reflection of his roles before Terminator: Dark Fate. "They really did equip me to do the job of this magnitude. On Matador I did a lot of weapons training, western boxing and kung fu and all kinds of things I learned from my stunt double Morgan Benoit. In Ghost Rider, I did motion capture and facial capture and wires. I was slowly building all the skills I needed. When Terminator asked me, 'Do you know how to do this?' I could say yes. I could check every box."
Terminator: Dark Fate is in theaters now.