To be a Terminator in 'Dark Fate,' Gabriel Luna auditioned as Tom Cruise
Here's how Luna became a sophisticated killing machine in 'Terminator: Dark Fate.'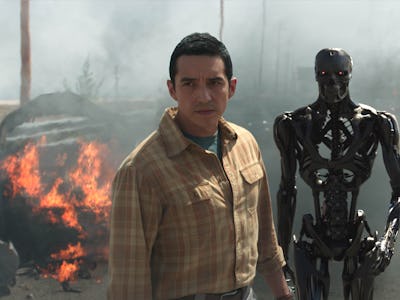 Paramount Pictures
In order to play a new generation of highly sophisticated killer robots, one of the stars of Terminator: Dark Fate had to learn how to play Tom Cruise first.
Gabriel Luna, the 36-year-old actor known to Marvel fans as Ghost Rider in the series Agents of S.H.I.E.L.D., had an unusual audition for director Tim Miller. Rather than reading lines related to the movie, Luna instead performed Tom Cruise's scenes from the 2004 Michael Mann movie, Collateral. 
"Where Tom Cruise is charming Jamie Foxx to help him fulfill this night of murders he's doing," Gabriel Luna tells Inverse. "That was an important aspect, and it was an aspect Tim wanted to be there."
In Terminator: Dark Fate, a new sequel to the franchise set decades after 1991's T2: Judgment Day (and ignoring previous films, like 2003's Rise of the Machines and 2015's Genisys), an evil A.I. in the future sends to our present day 2019 a Terminator to kill a Mexican woman, Dani (Natalia Reyes) who is destined to play a key role in humanity's future.
These new Terminators, called the Rev-9, are powerful, nearly indestructible, and can shape-shift into black liquid. The Rev-9s can also "split" their bodies into two, releasing their own carbon alloy endoskeletons into the field to help them complete their deadly missions.
Crucially, Rev-9s can learn to be human, not just mimic them. Luna describes his Rev-9 as a "newborn" who "learns" to be human in a very short time by hacking social media. Like the Terminator films before it, it's a small bit of commentary in Dark Fate that the machines can learn to be human because of how much personal information we've surrendered to the internet.
"It took Arnold's character decades to develop," Luna says. "I wanted the Rev-9 to do [that] over the course of two days. His ability to tap into networks gives him the ability to download from anyone that has a Facebook account, or account of anything, and process feelings, thoughts, emotions, into his system. He can charm when he needs to, or shoot the shit with the boys."
Adds Luna, "I didn't want to be a man playing a machine playing a man. I wanted to be two human actors performing together. However human he does seem, I want the audience asking, what is wrong with this dude? I shallowed my breathing. I didn't blink. I was efficient in points of focus. No wasted movement. I tried to create a physical vocabulary that's always in attack mode."
"Gabriel has this amazing ability to be personable, and then at a moment's notice change into a stone-cold killer," says Tim Miller. "For our audition, we used this Collateral scene where Tom Cruise goes from this nice guy from out of town to, I'm gonna shoot you in the head because you know too much. In the blink of an eye. A lot of actors can't make that transition. Gabriel could."
From playing secret agents (El Rey's Matador) to demonic superheroes in the Marvel Universe, it took all the tools in Luna's toolbox to become a Terminator.
"I owe a lot to Matador and Ghost Rider to do a job of this magnitude," he says.
Those roles taught him piecemeal what he'd need to become the Rev-9. From weapons training and kung fu (his stunt double, Morgan Benoit, is a 15-year veteran) to facial and motion capture, "I was slowly building up the skills I needed. When Terminator asked me, 'Do you know how to do this?' I could say yes. I could check every box."
" In mo-cap, I could just let loose and be weird. I got to do kabuki theater for my crew.
And Luna was put through the ringer for Dark Fate, further learning new skills (he can fly helicopters now), training with Arnold Schwarzenegger, and performing motion capture for the Rev-9 endoskeleton.
Describing the motion-capture a "joy," Luna says the Rev-9 endoskeleton was a chance to let him get "weird."
"It was liberating to not have to worry what people see on your face," he says. "For so much of the film I was trying to maintain a visage, a serene but violent expression. In mo-cap, I could just let loose and be weird. I got to do kabuki theater for my crew. I wanted to give ILM, the wizards, all they needed."
But the greatest joy of acting in a Terminator movie was training with the Terminator himself, Schwarzenegger.
"He doesn't push anyone down. He lifts you to his level, so you can stand eye to eye," Luna says. "He gave me input, encouragement when I was training, never tried to lord over. In the gym, we'd count for each other, rotate on machines. We talked diet, nutrition. I learned every lesson he had to teach."
Terminator: Dark Fate is in theaters now.