With Ghost Rider, 'Agents of SHIELD' Is Now Legit Marvel TV
One of the most accurate characters ever is going to light up Marvel's Tuesday nights.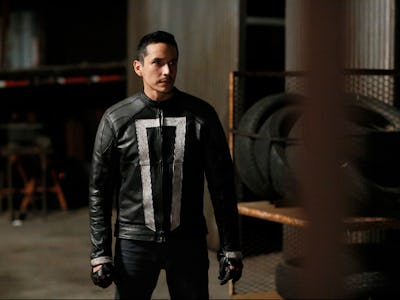 ABC
After three seasons of spies, Inhumans, and tired Hydra plots, Marvel's Agents of S.H.I.E.L.D. is at last becoming real superhero TV. In the Season 4 premiere "The Ghost," the MCU introduces one of the most legit characters anywhere with Gabriel Luna as Robbie Reyes, the "All New" Ghost Rider. With barely an hour of screen time under his studded belt, Ghost Rider is of the most impressive and startling new superheroes of the year, and his presence has reignited my interest in the waning Agents of S.H.I.E.L.D. And yeah, you can bet Marvel fans are scrambling to get his jacket for Halloween right now.
At the end of Season 3, I was weary of Agents of S.H.I.E.L.D. A vague anomaly in the clear-cut Marvel Universe, S.H.I.E.L.D. lost me with its blurred identity and unfocused stories. Everything Marvel has an identity: Jessica Jones was a slick neo-noir, Daredevil a gritty crime drama, and the Captain America movies a pastiche of American action films. But Agents of S.H.I.E.L.D. suffered an identity crisis from the start by being an overproduced sci-fi/espionage/workplace dramedy that also tried to be quirky like other Joss Whedon shows.
Season 2 was the show's best and it's no coincidence that this is when S.H.I.E.L.D. embraced "comic books" the most with Daisy discovering her Inhuman heritage. Last season went even harder into Inhuman stories, with worldwide Terrigenesis kicking off the plot, but it became bogged by shoehorned romances and Hydra, yet again, as the bad guys. As a result, Agents of S.H.I.E.L.D. wasn't really about superheroes, though it wasn't not about superheroes either. By the end, I didn't know what to make of S.H.I.E.L.D., which also just suffered from a lot of boring episodes.
But now there's Ghost Rider, a real superhero looking just as he did on Felipe Smith's run in All New Ghost Rider. (Chloe Bennett's Daisy Johnson also looks great as Quake, but her outfit is a leftover from Season 3). Ghost Rider, however, is a stunner. Although Luna plays him straight as expected and his love for his wheelchair-bound brother is textbook sympathy (also ripped from All New Ghost Rider), it's the VFX that made Ghost Rider one of the most magnificent (and frightening) things I've seen all year. If nothing else, Ghost Rider is easily one of Marvel's most impressive and most accurate-looking characters, right up there with Boseman's Black Panther, Bernthal's Punisher, and Johansson's Black Widow.
Looks aside, Ghost Rider as a character is even more promising. Robbie Reyes, a working-class mechanic in Los Angeles who hosts the spirit of a demon (in the comics it's a Satan-worshipping serial killer; we have yet to find out who the demon is in the show), has come into S.H.I.E.L.D. and has already changed everything. Inhumans had nary a mention in the premiere. We got to see Yo-Yo again, but she didn't use her powers at all. Reyes's supernatural presence, an omen of Doctor Strange coming in November, is a bit awkward in the sci-fi S.H.I.E.L.D. but it's a welcome presence — and anyone who's read Marvel knows how much the comics play with genres. If only Agents of S.H.I.E.L.D. knew how to do that from the start.