Hulu's 'Ghost Rider' Won't Take Place in the MCU, and That's a Good Thing
Gabriel Luna reprises his role from Marvel's 'Agents of S.H.I.E.L.D.' But he's not quite the same.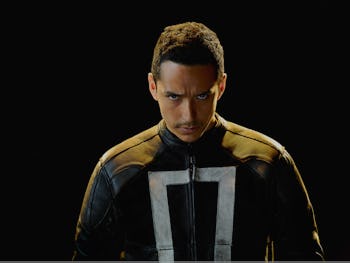 ABC
The Spirit of Vengeance is coming back to television, but don't expect it to take place in the Marvel Cinematic Universe. Ghost Rider, a new Hulu series based on the demonic superhero created by Felipe Smith for Marvel, will star actor Gabriel Luna (also starring as the next Terminator in Terminator: Dark Fate) back in the role of Robbie Reyes, a street racer who comes back to life thanks to the powerful Spirit of Vengeance. The series will be the second time Luna plays Ghost Rider on television.
The series was announced by Hulu and Marvel at its upfronts on Wednesday. Ingrid Escajeda, a producer and writer for shows like Justified and Empire, will act as primary showrunner of Ghost Rider.
Luna first played Robbie/Ghost Rider in the fourth season of the Marvel TV series Agents of S.H.I.E.L.D. on ABC in a portrayal that was a hit with fans. A search on YouTube yields results showing compilations, fan videos, and comment sections full of people raving about Luna's performance as Ghost Rider.
But what does Hulu and Marvel's Ghost Rider mean for the Marvel Cinematic Universe, especially after Avengers: Endgame? Surprisingly, almost nothing.
Marvel's already al but confirmed that Ghost Rider won't join any other heroes in the MCU. Here's a quick breakdown how Hulu's Ghost Rider will be independent from the same universe as Captain America and Iron Man.
Jeph Loeb Is Executive Producer
The biggest sign that Ghost Rider isn't driving the Hell Charger (a modified 1969 Dodge Charger R/T) through the MCU is that the series' executive producer is Jeph Loeb, the head of Marvel Television.
Once again, we need to remind you that there are two production studios houses at Marvel: Kevin Feige oversees the Marvel Cinematic Universe film franchise, spanning everything from 2008's Iron Man to Avengers: Endgame. Jeph Loeb oversees Marvel Television, from Netflix (Daredevil, Jessica Jones, etc.) to FX (Legion) to Freeform (Cloak & Dagger) to, of course, Hulu (Runaways).
Ghost Rider is under House Loeb, who has produced TV that's connected or inspired by the MCU, but rarely crosses over the way the movies so frequently do. So with Loeb at the helm, you can expect the same from Ghost Rider.
It's a "New" Robbie Reyes
In a report from Variety that confirmed Luna's involvement on the series, anonymous sources said it will have no ties to Luna's first appearance as Ghost Rider from the fourth season of Agents of S.H.I.E.L.D.
Variety wrote that Hulu's Ghost Rider "will be a completely new iteration of the character in no way connected to the Agents of S.H.I.E.L.D. storyline."
A summary of the series confirms as much. The show will follow Robbie living on the Texas/Mexico border, while in Agents of S.H.I.E.L.D., Robbie was from east Los Angeles, just like in the original comics.
It's on Hulu, Not Disney+
After Disney's divorce from Netflix, Marvel's parent company is betting hard on its own original streaming service, Disney+, which will host an array of original television shows including spin-offs of Marvel and Star Wars when it launches this fall.
The Marvel shows coming to Disney+ bear stronger ties to the films than other Marvel TV shows, and star some of the most popular supporting superheroes in the Avengers. The shows include WandaVision (starring Elizabeth Olsen and Paul Bettany as Wanda and Vision respectively), The Falcon and the Winter Soldier (Anthony Mackie and Sebastian Stan as their title heroes), Hawkeye (Jeremy Renner), and Loki (Tom Hiddleston).
But Hulu is also owned by Disney in a joint-venture with NBCUniversal. After Disney's $60 billion acquisition of 20th Century Fox, which also had a stake in Hulu, Disney's majority ownership of Hulu (60%) means Disney has space to put more mature-oriented programming onto Hulu instead of Disney+, where the company aims to maintain Disney's family-friendly image.
New Marvel shows on Disney+ need not be tied to the films, but it makes a lot more sense from the perspective of an average consumer to emphasize the continuity on Disney+ than on a separate service like Hulu where Marvel can really let loose.
Ghost Rider is set to release on Hulu in 2020.