Avowed is so much more than a Skyrim clone — here's everything we know
Pillars of Eternity goes first-person in Obsidian's new open-world RPG.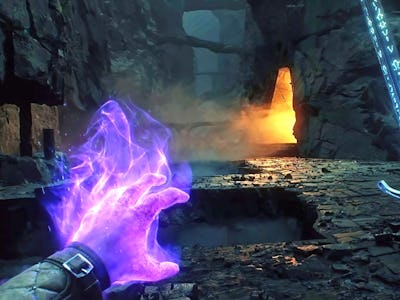 Obsidian
Obsidian Entertainment's Avowed stole the show when it was revealed in the July 2020 Xbox Games Showcase, even though it only had a brief trailer teasing its world and gameplay. Despite the lack of news since its reveal, the upcoming open-world RPG is one to watch for fans of games like Skyrim.
Obsidian Entertainment's latest RPG seemingly emulates the Elder Scrolls approach to high fantasy gaming in much the same way that The Outer Worlds did with Fallout. Obsidian fans have even more to look forward to with Avowed, given its direct connection to the developer's Pillars of Eternity series.
Here's everything we know about Avowed so far.
When is the Avowed release date?
We don't yet have a release date for Avowed. Windows Central claims in an October 2021 report that the game is "moving through pre-production towards a playable alpha state." That means we probably shouldn't expect the game to come out in 2022. A 2023 release seems possible at this point, though 2024 isn't out of the question.
Is there an Avowed trailer?
Yes, a trailer was shown at the Xbox Games Showcase. You can watch it again below.
In the trailer, we get a brief glance at Avowed's gameplay, showing the first-person RPG elements. We also received direct confirmation that the game takes place in Eora, the same world as Obsidian's Pillars of Eternity series.
There's no clarification as to when in that timeline Avowed will take place, but some eagle-eyed fans have noticed connective tissue in features like the glyphs on the sword, which are written in Aedyran, a fictional language in the Pillars canon.
When translated, they give the blade a name: Oathbinder. This ties in neatly to the repeated mention of oaths in the trailer. So far, this is the only official look at the game.
Is Avowed an Xbox exclusive?
According to the Avowed website, you'll be able to play on Xbox Series X, Xbox Game Pass, and Windows 10. Microsoft acquired Obsidian Entertainment in November 2018, so it stands to reason that any games the studio produces will forever remain Xbox exclusives.
While many of Microsoft's early Series X titles are cross-gen, this appears to only be slated for Xbox Series X and S. That said, you may be able to play it on Xbox One via cloud gaming.
How does Avowed connect to Pillars of Eternity?
Apart from sharing a setting, fans seem to believe that Avowed will fill a gap in Pillars of Eternity lore, functioning as a prequel to the main series. There are minor lore tidbits that users on the Pillars of Eternity subreddit have noticed. In addition to the Oathbinder's name, the sigil seen on the castle flag resembles a symbol used for the god Woedica, who in some cultures goes by the name Oathbinder.
The Aedyran language seen on the blade is associated with the Aedyr Empire, where Woedica is worshipped widely. This has led many to assume Avowed will take place during the Aedyr Empire's more prominent years.
In previous Pillars games, Woedica acted as a looming antagonistic god seeking to restore her power and influence. A game set in a time where she's powerful would be a nice contrast for longtime Pillars fanatics.
Some fans have recognized those massive statues seen in the trailer as Galawain, a god related to hunting. Many are still trying to figure out the exact connection to the mainline Pillars games, but it's safe to say Avowed has folks abuzz with theories.
From a gameplay perspective, the Windows Central report teases that many spells from Pillars of Eternity, like Jolting Touch, Fireball, and Fetid Caress will return in Avowed. Instead of playing like an isometric cRPG, these spells will be cast from a first-person perspective with complex hand gestures. Weapon enchantment, guns, and familiar enemies like Xaurips were also teased in that report.
How is Avowed like Skyrim?
Since the initial announcement, Avowed has drawn parallels to Skyrim and the entire Elder Scrolls franchise. From the trailer, we can see that it uses the first-person RPG style reminiscent of The Elder Scrolls games, particularly with the hand glowing with magic. Windows Central describes the game's formula as somewhere between Skyrim and The Outer Worlds:
"At least directly compared to the likes of Skyrim and Oblivion, Avowed seems to be a far more colorful game, reminding me far more of The Outer Worlds. Luminescent cave mushrooms, verdant forests awash with gigantic flora, and hulking sunlit temples complete with skeleton-infested depths and tombs are plentiful. It came as a bit of a surprise given the game's original trailer, which seemed like it was trying to strike a much darker tone, save for the neon spell effects."
Bethesda's series often trades low-res structures for increased narrative depth and immersion, but Avowed may take the opposite approach with more detail. Certain leaks imply that Avowed will further distinguish itself by making the world more reactive to the player's actions using next-gen AI systems.
Skyrim's world famously revolved around the player's action in some ways but gained recognition more for giving players a literally infinite task count using procedurally generated gameplay. We'll see if Avowed can match that amount of content.
Are there Avowed leaks?
As we mentioned earlier, there are numerous leaks for Avowed. The first leaks came from a ResetEra user named sponger. According to them, Avowed will be open world, set in the region of Eora, feature a lot of world interactivity, and more. Then, in October 2021, Windows Central's reporting affirmed some of those features will providing updates on the game's current state.
Xbox insider Klobrille also chimed in on ResetEra, backing up Windows Central's reporting, claiming that the spell from the trailer is still in the game, and saying "Avowed will be Obsidian unleashed."
In June 2022, another rumor surfaced that seems to corroborate Avowed's inclusion of firearms. On the Defining Duke podcast, games journalist Jez Corden claimed to have seen leaked pre-alpha gameplay of Avowed late in 2021. Alongside the expected swords and sorcery, he mentioned the game will have guns similar to muskets.
That's yet another link to Pillars of Eternity, which features firearms as a normal weapon type. The inclusion of firearms could also help triangulate Avowed's timeline. Avowed may still be a prequel to Pillars, but it's presumably not too far in the past if firearms have already been developed.
When will we see more Avowed?
Microsoft hasn't shown off Avowed since July 2020, so we're eagerly awaiting the next showcase. If there's more Avowed to be seen in the near future, it will likely come at Summer Game Fest on June 9 or the Xbox and Bethesda Games Showcase on June 12, 2022.
Avowed will launch exclusively on Xbox Series X and Windows 10
This article was originally published on