Secret Invasion Episode 1 Release Date, Start Time, and Trailer for Marvel's New Series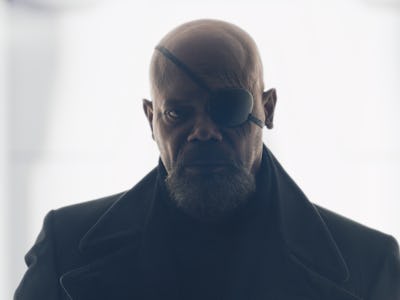 Marvel Studios
Television is still a novelty in the Marvel Cinematic Universe, despite Marvel Studios' unrelenting efforts to conquer the medium. Since debuting on Disney+ with WandaVision in January 2021, Marvel has made eight shows, and even more are coming. Given today's superhero fatigue, that may sound like a threat. Previous Marvel shows felt like experiments at best, and drawn-out movies at their worst.
Hopefully, Secret Invasion will be the breath of fresh air Marvel TV needs. The series will adapt a famous Marvel comic where the Skrull — a shapeshifting alien race — attempt to control Earth from the shadows. Nick Fury (Samuel L. Jackson) is all that stands between radical Skrulls and world domination, and while he'll have a few allies to lean on, Secret Invasion is unmistakably The Fury Show. Marvel is finally giving one of its finest performers some much-needed time in the spotlight, and Secret Invasion seems to be taking the same gritty tone that made Captain America: The Winter Soldier a MCU classic.
Whether it exceeds expectations or delivers more of the same, fans and skeptics alike will be tuning in soon. Here's how to catch Secret Invasion.
What day does Secret Invasion episode 1 release?
New episodes of Secret Invasion will air on Disney+ on Wednesdays. The first episode of the series premieres on June 21, 2023.
What time does Secret Invasion episode 1 come out?
Like most shows on Disney's streamer, Secret Invasion drops at 3:00 a.m. EST (12:00 a.m. PST).
How many episodes will Secret Invasion have?
Like several Disney+ series that preceded it, Secret Invasion will run for six episodes. But its episodes may be running a bit longer than those in WandaVision or The Falcon and the Winter Soldier, which suggests Marvel is going for a more "prestige" miniseries vibe this time around.
Does Secret Invasion have a trailer?
Between Marvel's behind-the-scenes coverage, ambitious TV spots, and password-protected teasers, Secret Invasion fans have been spoiled for riches. Secret Invasion has plenty of trailers to pore over, and as we get closer to the official release date, Marvel has also released a new clip peeking into Nick Fury's new normal with Maria Hill (Cobie Smulders). If you're wondering what to expect from the first episode of Secret Invasion, check out the clip below.
Will there be a Secret Invasion season 2?
So far, it seems like Secret Invasion will be a one-and-done. The new series will be picking up threads first introduced in Captain Marvel back in 2019, but whether this story will continue in future MCU projects (or a Secret Invasion Season 2) is still a mystery. We do know that Fury is set to appear in The Marvels later this year, which may make Secret Invasion a requirement for Marvel completionists.