Marvel Just Revealed a Thrilling New Secret Invasion Teaser — If You Know the Password
A now-deleted Twitter spree revealed clues to a five-minute long sneak peek.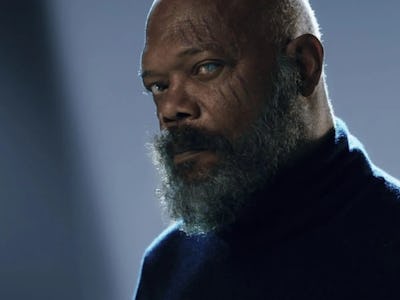 Marvel Studios
Secret Invasion is now only a couple of weeks away, and the Marvel show's official Twitter account celebrating in a very fitting way: by tweeting (and then deleting) a number of images that promised some greater reward when deciphered. But just what happened, what did the clues lead to, and what did we learn about the series? Here's everything you need to know.
The chaos started with a tweet at 1:04 PM Eastern that simply read, "Fury, are you there?" Then, a strange image was uploaded and, about five minutes later, deleted. This pattern continued with image after image, which fans then noticed could be assembled to form an image of a conspiracy board.
Among the heavily redacted documents was a URL: theinvasionhasbegun.com, but the site was locked down under password protection. Thankfully, the images slowly being released contained two characters each of the 10-character password.
Since these images now only exist in repost, we'll do the hard work for you and let you know the password is RSD3PX5N7S. If you enter that, it brings you to a five-minute-long sneak peek of what is presumably Secret Invasion footage featuring Everett Ross and an "Agent Prescod." Prescod has assembled a conspiracy board himself, and is trying to convince Ross that an invasion is underway.
This clip is a handy recap for what the Skrulls have been up to since we saw them last. It also gives us some handy clues as to what the status quo is at the beginning of this series. When Prescod mentions Nick Fury, Ross tells him that he's on S.A.B.E.R., the space station where we saw Fury with Monica Rambeau in promotion for The Marvels.
Presod gives Ross a hologram device that contains what are presumedly plans for a large-scale attack, and just after Ross tells him he'll pass it on to Fury, Precod attacks him. It's quite the cliffhanger and definitely establishes what the tone of the series is — and the paranoia of those involved.
Break out the yarn and the thumbtacks, this is gonna be a wild ride.
Secret Invasion premieres June 21, 2023 on Disney+.
INVERSE may receive a portion of sales if you subscribe to Disney+ through the link in this article.