Secret Invasion may forever change the way MCU fans see Nick Fury
Nick Fury is finally going to get his turn in the spotlight.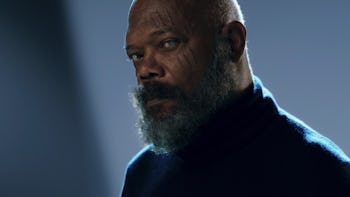 Samuel L. Jackson has been part of the Marvel Cinematic Universe since its creation. The actor made his debut as Nick Fury in the post-credits scene of 2008's Iron Man, and he's remained a major authority figure ever since. Despite his importance, Fury has never been given the chance to lead his own film or TV series in the same way that many of Marvel's other heroes have over the past 14 years.
It looks like that's finally going to change when Secret Invasion premieres on Disney+. The highly anticipated MCU TV series is set to primarily depict the conflict that arises when a group of Skrulls invade Earth, but it will apparently also show Marvel fans a side of Jackson's Fury they've never seen before.
The Benefits of Longer Runtimes — During a recent conversation with The Hollywood Reporter, Samuel L. Jackson spoke about his experience playing Nick Fury again in Secret Invasion, and what it was that he found exciting about the project. Specifically, Jackson says it was the opportunity to explore Nick Fury in ways he hadn't before that made him interested in starring.
"I can have a whole life as Nick Fury that's not Nick Fury at work," Jackson told THR. "You know, we get to go home with me and see what happens with me at home or when I'm alone or when I'm not so strong."
Jackson also said, "Some things that you can do that you can't normally do [in the films] because the character has to present this [heroic] front, and that's what the movies are for. And when you get to do it in longform, you get to show [that] even superheroes have their down moments."
A New Side of Nick Fury — Despite how long he's been part of the MCU, there's still a lot we don't know about Nick Fury. While he's had major supporting roles in films like Captain Marvel, Captain America: The Winter Soldier, and Spider-Man: Far From Home, his appearances didn't shine much of a light on his personal life. Frankly, it's a bit surprising to hear that Fury even has a personal life.
It's for that reason that Secret Invasion's exploration of the character sounds so promising. Jackson is set to lead the series alongside Ben Mendelsohn, who will be reprising his Captain Marvel role as Talos, and it sounds like the Secret Invasion creative team isn't going to let the opportunity to further explore Jackson's veteran MCU hero pass them by. The Disney+ series, therefore, has the chance to totally redefine how many viewers and comic book fans view Jackson's Nick Fury.
The Inverse Analysis — One of the great things about the MCU is just how many characters exist within it, but that's also presented Marvel Studios with a unique problem. The studio is incapable of making individual movies and TV shows for all of its characters because there are just too many of them. That's why a character like Natasha Romanoff (Scarlett Johansson) didn't get her own standalone movie until 2021.
Fortunately, Marvel was able to partially make up for that when it released Black Widow last year. Now, with Secret Invasion on the way, it looks like the studio may finally be on the verge of correcting its poor use of Samuel L. Jackson over the years.
Of course, only time will tell whether Secret Invasion manages to actually be the kind of Nick Fury-centric MCU adventure that fans have long wanted to see.
Secret Invasion is coming soon to Disney+.