4 Years Later, Loki Season 2 Fixes Marvel TV's Biggest Problem
"Maybe there's more burden and less glory in the purpose this time."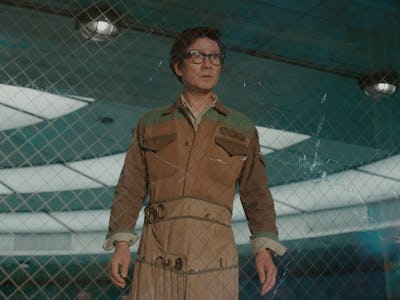 Marvel Studios
In Loki Season 2, the God of Mischief (Tom Hiddleston) is on a quest to save the TVA from the multiverse. It's a far cry from his attitude at the top of Season 1: back then, Loki was fresh off his "glorious" tirade in The Avengers, and still set on some form of world domination. His path eventually crosses with Agent Mobius (Owen Wilson), whose particular brand of tough love opens Loki's eyes to his endless cycle of self interest. By the time he teams up with Sylvie (Sophia Di Martino), and faces off with the ominous He Who Remains (Jonathan Majors), Loki finally seems ready to accept that he's not actually the center of the universe. It's the very thing that makes Loki such a personal, unique story — and defies one of the MCU's more tedious new habits in the process.
According to star Tom Hiddleston, the stakes are even higher for Loki in Season 2. It's not only because the fabric of existence is unraveling before his very eyes, but because he's finally found something outside of himself to care about. "If Season 1 was about self-awareness and self-acceptance, Season 2 is about taking responsibility and trying to find a new purpose," Hiddleston told Marvel.com before the SAG-AFTRA strikes. "[Loki is] a character who, as long as I've played him, has been searching for meaning. Even when he wasn't aware of it, he was full of grievance and anger and emotional destabilization because he didn't feel he had purpose or meaning."
Per Hiddleston, Loki's spent his life looking for purpose in all the wrong places. His adventures with the TVA, however, have given him a new goal, and a new family to protect. "It's a new beginning, a new story, a new chapter," Hiddleston continued. "Maybe there's more burden and less glory in the purpose this time."
That new beginning doesn't only extend to Loki, either: his adventure in Season 2 feels like a turning point for Marvel's efforts on Disney+. Loki has always felt like a drastically different show compared to WandaVision or Ms. Marvel, probably because so many recent Marvel projects have been working hard to unpack the trauma their characters have been carrying for years. A lot of it was caused by the events of Avengers: Infinity War, where Thanos snapped away half of all existence. The Avengers were able to reverse "The Blip" in Endgame, but there were still plenty of casualties.
Marvel's Disney+ shows have spent a lot of time contextualizing the effects of the Blip, and a lot of them have been about grief or loss as a result. As important as those themes are to explore, the MCU is starting to feel bogged down by it. There have been some exceptions, like She-Hulk and What If...?, but Loki is the only series so far that feels like it's actually about something other than the Blip. Sure, it's expanding the multiverse in a way that few MCU projects have been able to do — but it also gives equal attention to its characters without leaning too hard on their trauma.
The importance of purpose can't be overstated. The franchise has been using Phase Four and Phase Five to rebuild, but its emphasis on past events might be hindering its momentum. With the next Avengers film still a few years away, our heroes need something to strive towards. Loki is one of the few projects with a clear goal in sight, and that's just one of the things that makes it one of Marvel's greatest shows.
Loki Season 2 streams Thursdays on Disney+.